"I'm bored!" — that is a common statement from the 2 girls after 2 seconds of not doing anything or going anywhere.  One of our solutions was to have a sleep over in Makati and make a fun day and night out of it.  This was our itinerary:
Day 1: Saturday
11:30AM: Check in at New World Hotel
Normal check in time is at 2pm but if the room is ready, you can go up.  First order of business is to disinfect the door knobs, light switches, toilet flush handles, tub — anything and everything that could have been touched.
12 noon: Go to Greenbelt for lunch
The kids have their favorite places to eat — and they're mostly in Greenbelt — Cibo (not again!!), Pepper Lunch, Kimpura, Italiannis.  Greenbelt is very scenic for the kids — there are lots of open spaces, bridges, structures they can look at.  My favorite is the old chapel.
1:30pm Ayala Museum
We got the full admission price of P225 for adults and P125 for the kids + P75 each for audio guides.  This gave us access to all floors, where we started with the 4th floor/ gold artifacts area first.  Given that the little one had little patience to go through that floor, we could have paid less with the basic admission but it's also nice to help in our little way.
On the 2nd floor are the popular dioramas which we saw as kids!  I recommend the audio tour because it keeps the girls busy and engaged with each display.  I just hope they make a more fun and age appropriate version for much younger kids.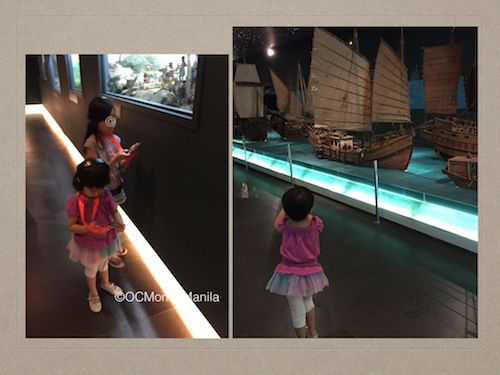 3pm: Siesta and Afternoon Swim at New World (and some shopping for me)
It is a staycation after all so we nap while ate reads a book in the tub.  (What is with tubs??)  Then after waking up, Dada and the girls swim while I lounge around and take a walk to Greenbelt to shop a bit and get them some merienda.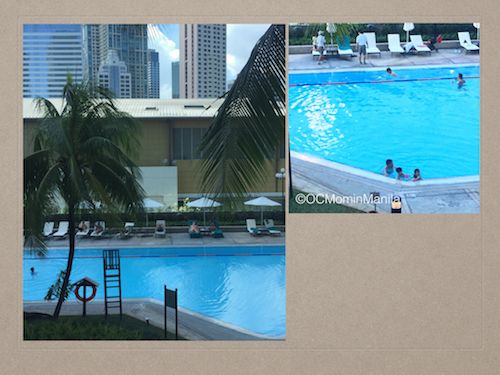 After the swim is a post-swim bath with Starbucks creme frappuccinos (ahh, the life).
630pm: Dinner at Carmelo's & Cibo; Dessert at Cafe Breton in Greenbelt
We walked back to Greenbelt (just a stone's throw away!) and took in the night sights — colorfully-dyed puppies (as M said, they were cute and freaky at the same time) and the bright lights and sounds of the mall.
My husband and I wanted Jasmine in New World for dinner but the kids don't like dimsum so we had no choice.  We ended up in Carmelo's for steaks for us and … yes … take out telefono for the kids from Cibo.  Carmelo's happily obliged.  Thank you!
830pm: Sleep Over Games at the Hotel
M brought some card games which the small one pretended she knew how to play.  Dada happily snored behind us at 9pm!
930pm: Bedtime with block out curtains!  
Day 2: Sunday
830am: Breakfast
The New World breakfast buffet spread has so many options from different Asian cuisines.  In the end, the kids will choose waffles.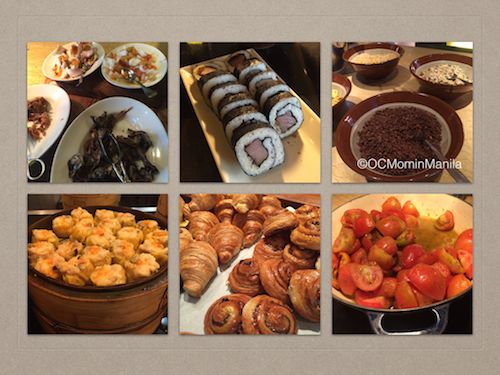 930am: Last chance to swim! 
1030: Last bath tub time
1130: Pack up and check out
The New World lobby is really nice and the girls love the staircase despite my stress about them going up and down on it.
It was a quick and fun weekend! We all know that all our kids want from us is undivided attentio.  Like those full-day company team building sessions, it's nice to get away sometimes from the busy-ness of home and work and just enjoy each other's company … without spending so much and being so far away from home.  Next time we do this, we'll try doing a walking tour of Ayala Triangle.
©OCMominManila
♦
For reservations to New Worl Makati:
Website: http://manila.newworldhotels.com
Facebook: New World Makati
Twitter/ Instagram: @newworldmakati