There are a few things my kids eat — crunchy things and creamy things are some of them — so why not combine both for a yummy snack?
Here's a recipe for OREO Strawberry Milk Shake, which I made with my 3yo N.  She thoroughly enjoyed this because she did some pretend play while we were at it.  She was actually talking to the ingredients and making them talk to each other too.  Hello Pinky! (that's her name for OREO strawberry)
1. Prepare the ingredients and materials:
8 OREO Cookies
1 cup milk
2 cups vanilla ice cream (we use Selecta super thick vanilla)
Blender
Meat tenderizer
Straw
She said she was the mixer.
2. Scrape off the strawberry creme from the middle of the OREO.  We had to open more packs because some immediately ended up in her mouth (marshmallow test fail!).
3. Put in the milk, ice cream, 4 broken OREO cookies and all the strawberry creme inside the blender vessel.  She composed a new song that had the refrain A blending we will go, a blending we will go …
4. I gave N the meat tenderizer and some foil so she could slowly pound and grind up the 4 OREO cookies into smaller itty bitty pieces or crumbs.  She was pretending to be the evil witch as she ground them.
5. While she did that I used my personal Oster blender (It's pretty cool! I  bought this from True Value on sale! I wish they had extra cups though) to mix the initial ingredients.
6. After blending, pour into a nice cup or mug.  Ours is the giveaway from the wedding of her Ninong Drew and Tita Iya which says "Eat, Drink and Be Married".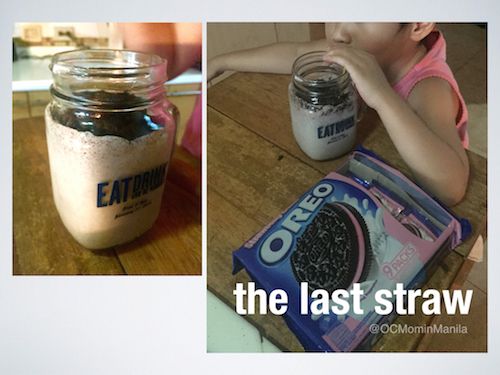 7. Add the tenderized OREO cookies on top as crunchy shake toppings.
Oh make sure you have a straw at home!  I forgot we ran out of our Paper Chic straws.  I will make sure to run out and buy glass straws or stainless straws which are available in a few shops now.
She and her sister loved the concoction!  And she loved making it because to her, it was all play.
©OCMominManila