Yes, I have a passion … for NOT cooking.  I think because I am intimidated and overwhelmed.  I am a perfectionist in the kitchen.  I like to follow the recipe to the drop.  I have no art.
But as Coach Pia reminds us with all things — That … is … OK. Perfection is not the goal in life.  (And when it comes to food, survival is.  Hahaha)  So I was not daunted when we had a #BetterMe cooking workshop project with Lee Kum Kee.  I actually got excited when we were thinking of the concept because our idea was to help moms like me.  And who better to help me with my lack of cooking abilities and menu-planning than other moms?
So we came up with the concept of a recipe swap among moms, particularly Mish Aventajado, Michelle Lim, Eliza Santiago and our host Suzi Abrera.  They were guided by my good neighbor — Karen Santos Mejia — who taught me and helpers here in our village some Japanese recipes through a workshop too!  I'll feature a lot of Karen's practical cooking tips below.  Here are the recipe's the moms shared:
Suzi Abrera's Thai Omelette
Suzi is a TV personality and a mother of three beautiful girls with a crazy schedule that starts before the crack of dawn.  She still finds time to cook for her family and every Monday, she has this Monday Night Special — follow Paolo Abrera's posts on Instagram. (I wonder where she gets her superpowers — I have a hunch it's from beer and barre!) She shared with us one of her favorite recipes — Thai Omelette. It's quick and easy.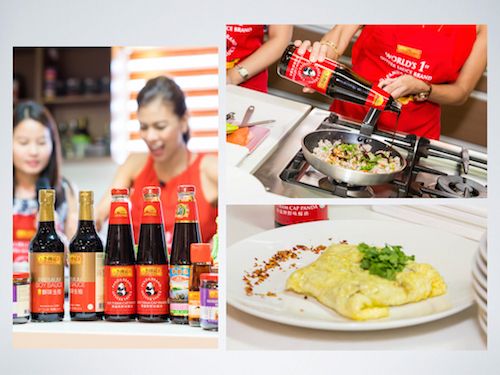 She was done in less than 15 minutes (with showbiz chika to boot).
Karen's Tip: To make the eggs fluffier when cooked, add a splash of water with the beaten eggs. The steam from the water will help cook the eggs and make them fluffier.
Momma n' Manila's Grilled Salmon
Mish Aventajado, without a doubt, is the opposite of me in the kitchen. She prepares her kids bento baon for school. She shared with us her grilled salmon recipe. Here's the finished product — using her marinade of vegetable oil, rice vinegar, sesame oil, Lee Kum Kee Oyster sauce, green onions, ginger, and garlic.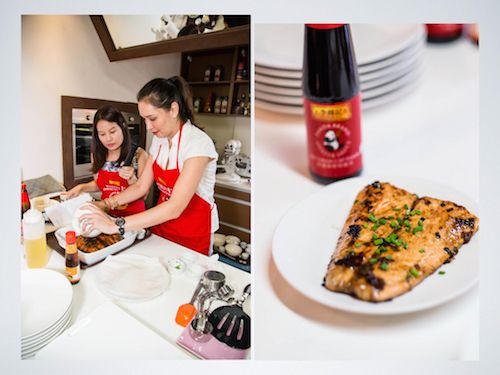 Karen's Tips:
Make sure to completely defrost the fish to ensure proper and even cooking.
Do not overcook the fish. As a guide: for every 1 inch thick of fish, cook for 10 minutes. (5 on each side). If fillet is thinner, cook in less time. The fish will continue to cook after removed from the heat.
My Mom Friday's Tofu Saute
Michelle Lim has a foodie Friday section in her blog. No wonder cooking loves her too! She shared her Tofu Saute recipe. Classic!
Karen's Tips:
If you're in a hurry, cut tofu in smaller pieces for shorter cooking time.
Dry the tofu so the tofu can absorb more sauce.
MoMaMa.Me's Zenmayang Shucai
And finally, Eliza Santiago shared her sauteed asparagus recipe with a fancy Chinese name she made up. She speaks for the "non-cooking moms" that you don't have to be a "good cook" to cook delicious meals for the family. Here's the finished product:
Karen's Tip:
•To prevent overcooking, cook the thicker parts first before the thinner parts.
For all four recipes, you can check out the Lee Kum Kee Philippines Facebook album on the recipes.
And since you're in their Facebook page, go ahead and join their recipe sharing contest. Just share a photo of your dish with any Lee Kum Kee products and get to win 25,000 worth of kitchenware of your choice!
I will forgive myself for not being a great cook, for not following in my mom's footsteps, and for repeating recipes over and over within the month — now I have 4 which I can add to the recipe shuffle.  Besides, my husband is a better cook than I am so I'll give him the 4 recipes. Heehee.
*All photos taken by Aldwin Ku
@OCMominManila