We planned a trip to Donsol for my 40th birthday last January.  Our flight was cancelled because it overlapped with Pope Francis's flight back home.  We rescheduled a second time, which we had to cancel again because my 7yo had very high fever the night before and the day of our flight.  The third time was the charm.
Tip #1: Go PAL.  Cebu Pacific is probably perceived as the airline with the cheapest tickets but it's not really true.  Our PAL tickets were cheaper.  We had free snacks, luggage allowance and we flew on time.  (I will never forget the horror 13-hour delay on Cebu Pacific where they gave us a 1-pc chickenjoy meal without water in the Kalibo airport.  Our flight was supposed to be from Caticlan!)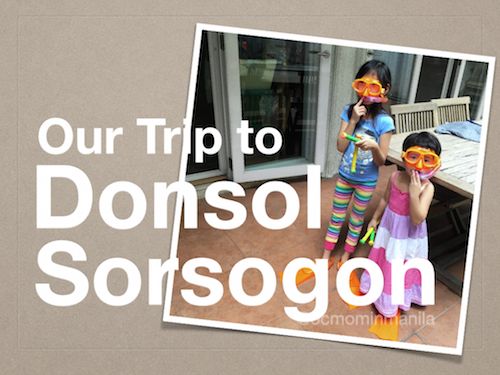 Day 1:
3 flight bookings and 35,000 pesos later (in fairness, each way is only 12,000 for 4 people!), we were finally able to get on a plane to Legazpi.
Tip #2: For flights and rebookings, use your Unionbank Cashback Mastercard, which gives you 1.5% cash back on every purchase.  These flights let me save Php 525, cash which I used to pay for terminal fees and Krispy Kreme donuts.
Tip #3: It is better to refund your ticket than to rebook it!  Our PAL tickets had a refund option which I failed to read in the fine print.
Tip #3.1: Read the fine print.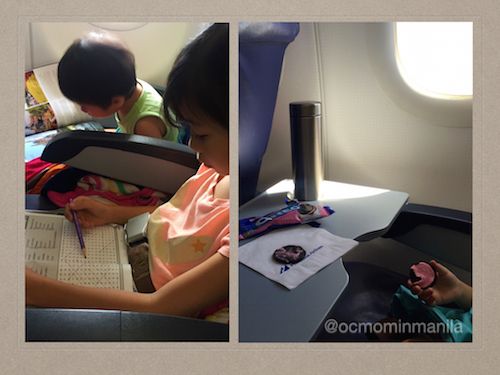 Tip #4: Bring things for the kids to do on the plane.  Nerdy 7yo M likes Word Find books while N likes to look at the photos on the in-flight magazine. (Make sure to wipe down those hands liberally after she reads the magazine.)
Tip #5: Bring your own snacks.  We bring Oreos and our own water in a Tiger stainless steel personal container.  This is a way to keep the kids busy and "feeds the munchies" during the runway traffic and during the flight.
After what seemed to be a super short flight, the pilot announced that we were landing in Legazpi airport.  Unfortunately, we couldn't see Mayon Volcano's cone as it was shrouded in clouds.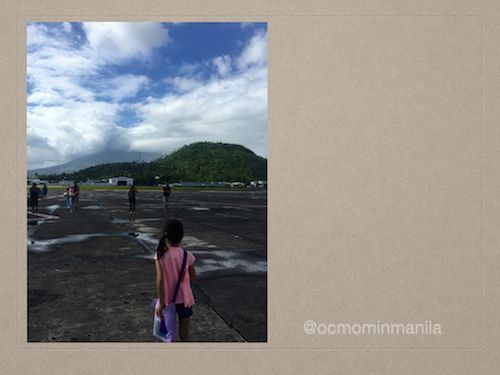 We were greeted in the airport by the van driver the hotel booked for us.  However, you can easily get vans at the airport or ride shuttles to Sorsogon.  The van ride takes about 1.5 hours, which quickly passes by because of the scenic views and Facebook surfing.
A few minutes away from Sorsogon city was our home for the next 4 days — Siama Hotel — one of the nicest hotels we've ever stayed in. Tomorrow, I'll post a review on Siama and how great it is!
Day 2:  Where we saw all the action
We left the hotel around 8AM.  I thought this was a bit late but Annie from the hotel said this was fine (and she was right!).  It was a 1.5 hour van ride to the Donsol Whale Shark Eco Tour center.  Once there, we were met by Omar, one of the very first butanding spotters in Donsol. It is his 17th year of guiding tourists to see the butandings — how cool is that!
Everyone is required to register and watch a video on what to do or not do during the whale shark interaction.  Image c/o donsolwhalesharkecotour.com.
The 1 rule that stood out in my mind: don't touch the whale sharks.  If you do, you will be deported back to shore.  Omar told us that they're very strict with this rule and they really impose it.
Once on the boat, he gave us quick instructions and after about just 10 minutes, he spotted our first butanding!  We were lucky because a. We didn't need to wait long; b. It had been raining the day before which caused some soil and plankton from the rivers to come down into the sea water.  Plankton is what whale sharks feed on so this was good.  However, visibility was not that good (thus my photos below are all borrowed).
Omar had superhuman eye sight.  He could spot the butanding even through the grey waters and he would point them out to us way before we could see them clearly … which was when they were just 3 feet away from us!  Can you imagine a 25-foot fish in front of you??
There was this one time when the first thing I saw when I put my head in the water was its huge mouth!
I was swimming so close the whale shark, I could have easily touched its dorsal fin but I didn't  lest I be deported.  We probably went down to swim with these giants about 7 or 8 times.  I was exhausted from swimming but Omar could just as well be called AquaMan because he would let me hang on his arm as he swam after the giant spotted fish.  It was like I had my personal jet-propeller.
Tip #6: Get Omar as your tour guide!
7yo M went down once but got scared because the whale shark was huge and so close.  That one time was still an amazing experience for her and she couldn't stop talking about it.
After about and hour and a half of chasing after the butandings, we decided it was time for lunch.  The boat took us to the Panumbagan sandbar for a lovely set lunch (sorry no photos because I forgot to bring out my phone!).  Then we passed by an area where you could harvest lato or sea grapes in English.  It had just rained so there was not much to harvest.  Lastly, we passed a local fish sanctuary in the middle of the ocean for some snorkelling.
Around 4:30pm, we headed back to shore where Omar left us at this restaurant so we could wash up and eat some lomi and drink cold beer.  By 6pm, Omar came back and insisted we watch the sunset.  And boy, I thought the Boracay sunset was the best but no, I think this was the best sunset I have ever seen in my life.
It was calm, soft, really beautiful.  The photo cannot do it justice.  Sights like these definitely put me in awe.
Once it got dark, we headed to the Donsol river, which required blackness for us to see the next highlight of Donsol … the fireflies.  The tour guide was very intelligent and knew everything there was to know about fireflies.  There were designated mangroves which had the fireflies in them.  Because they were very sensitive to sound, the way to make them light up was to clap and the mangroves would light up like a Christmas night on Ayala.  The girls were awed and delighted.  They had seen Tinkerbell in real life!  And we figured, maybe this firefly phenomenon was why you needed to clap to make Tink come to life.
We saw about 3-4 more trees light up, each one having different characteristics.  One of the trees actually had a family of fireflies that were blinking on and off in synchronicity.  It was really awesome.
The 1.5 hour trip back to the hotel was bumpy.  The kids slept through it.  My husband was nauseated.  However, seeing the most gigantic fish in the ocean and the smallest natural generators made it one of the best days ever in my life.
Day 3:
Swim, play board games, sleep, massage.  We opted to take advantage of our hotel instead of going to Subic Beach in Matnog.  I think it was a wise decision.
Day 4: Flight home
Tip #7: Always do online check-in so you can arrive an hour to 45 minutes before your flight without worry.
Tip #8: Oh, bring enough cash for the tours and your terminal fees!  There is no ATM in that airport!
Our total cash expenses (for tours snacks and terminal fees) reached around 14,000.  The hotel expenses, including food, amounted to 33,000.  It was actually a pretty expensive vacation but we did things we could never do just anywhere.
Tip #9: You can cut out a big chunk of our expenses.  Contact Omar to be your tour guide and help book your van trips, boat trips and tours.  You can ask him to take you to the other spots like Matnog or Bulusan Lake.  Call him at 09279989289.
Tip #10: All of the tours required cash but for all other purchases, use your credit card.  I used my Unionbank CashBack Mastercard and I got a Php 1,020 rebate on my next statement!  I cannot get savings like this with my other cards.
What I was most amazed about in Donsol is how WWF, the local government and the people have all worked together and understood what sustainable tourism can do for their community and for the Philippines.  From Omar to the hotel manager to the van driver to the firefly tour guide, they all knew that if we gave nature its space, its respect, it would give back to the community a thousandfold.  The butanding spotters have understood that taking care of the butandings and their environment have provided them houses, education for their kids, really nice motorcycles.  The firefly tour operators understand that houses cannot be built by the mangroves because it will kill the habitat of these small creatures.  They know it by heart.  They teach it to their neighbors, their kids, the tourists.  This is what makes Sorsogon so amazing in my eyes.
Funny in this day and age, but I wasn't able to capture most of our trip on camera — the beauty of the gentle and graceful whale sharks and the flickering fireflies.  However, the feeling I got when I saw them, the way my heart leapt and my eyes widened, the way my kids said "wow" — those things are just pure magic and they will forever be imprinted in my mind, all thanks to the people of Sorsogon who take care of them so well.
©OCMominManila