Every year, I try to select a few "generic" items to give away to relatives, teachers, clients, neighbors.  I say generic loosely because it means I buy it in bulk.  However, the idea is that the gift will be well-appreciated by anyone in those different categories … well, I hope they do.
It is December 4 today and yes, I still have not shopped for anyone!!  So, I put together a list of products which I can shop for online so I don't stress by going to the bazaars anymore.  Part 1 is about local goods which can be great gifts for family, friends, clients — generally, adults.  Most of these are less than 500 and everything is less than 1,000 except for 3 items, which are still so worth it.
They have various items — placemats, organizing boxes, chalk board tags — everything passionately and excellently hand-made by a Gawad Kalinga community in San Carlos City, Negros Oriental.  Read their story here.
When we move next year, our house will be filled with My Domesticity items.  For now, I will just shop for others.
Hand-made in Cebu, these bamboo products really make the Philippines proud because of the innovation, the passion, the heart behind them.  Jen Tan of Attached at the Hip gave me an iPhone 4 case earlier this year, a giveaway from one of their yoga retreats (mainly because I was probably her only friend left with an iPhone 4 hahaha).  It was made so nicely, fits my phone so well and is super sturdy.
If you're going for something less than 300, this key chain/ iPhone stand is just something so ingenious and creative that anyone would love you for giving to them.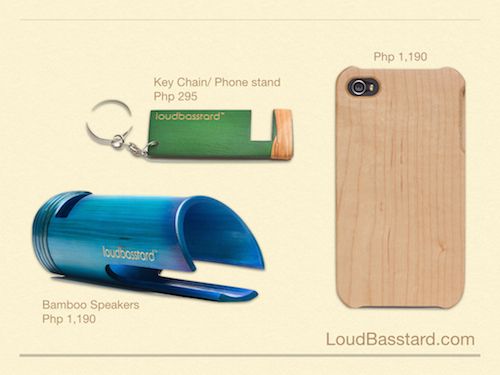 Read the amazing story of Loud Basstard here.
I saw their little nook at the MaArte fair and I loved their products instantly.  The company supports the Filipino craft of Abel weaving and they've created beautiful designs, which would look very at home on the shelves of a Pottery Barn on the East Coast. Their throws and monogrammed table napkins are really affordable at 450 only.
Read their story here.
4. Wallets from Rags 2 Riches, Renegade Folk and Anthill Fabric Gallery
Rags 2 Riches has created a signature chic look from upcycled t-shirt retaso (scraps).  If you haven't heard about this brilliant story involving this really petite but big-hearted girl (not such a young girl anymore though — shows my age!!) named Reese Fernandez, then you've probably had babies every year since 2007 and have had no time for anything (you're forgiven).  P369 for a gorgeous wallet which could pass off as a designer wallet any day!  What are you waiting for?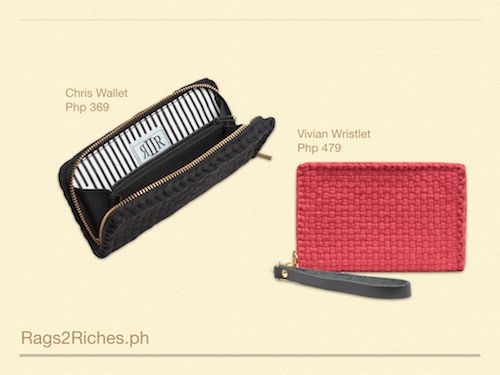 Anthill Fabric Gallery works with indigenous tribes all over the Philippines to bring gorgeous lifestyle products and fashion grounded on ethnic roots.  This checkbook wallet is so nice but you should see their skirts, their kapa and other pieces.  You'll fall in love.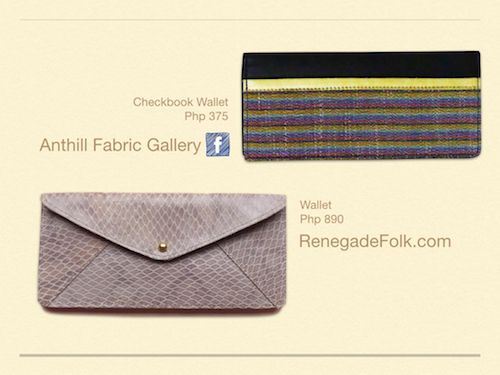 I have that wallet from Renegade Folk and I love how thin it is!  I just keep my other cards in my Muji card case.
I saw their stall in a 10Alabama fair and their hand-cut hand-stitched leather bags are so gorgeous and eye-catching.  Of course, I had to buy a leather bag.  For "generic" gifts though, you can get their chic pen holders and cord organizers.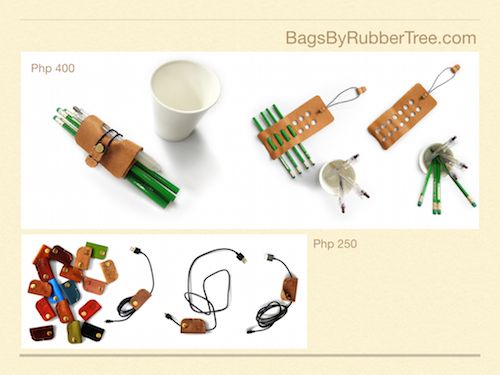 Their advocacy started with replacing the use of plastic bags with reusable bags.  Then Beansprout moved to most things reusable.  I love these utility pouches that are labeled.  I've stopped using bag organizers because they just, ironically, create a mess.  Instead I've used these pouches (P500 for a set of 5).  Their stainless bottles are only P300 and that tote below is so cute!  I use it for going to pilates class.
Darlene del Mundo is a mom with probably the most flawless skin you'll ever see.  She is gorgeous and is so hands-on with her 3 boys (4 counting her photographer husband Lawrence del Mundo). She is often the woman in his photos and the innovator behind this company and these products.  I love all of these products and I would personally not mind at all if you give these to me for Christmas and my birthday.  The kids love these too, most especially the Baby Salve which is great for insect bites, small wounds or anything they complain about.  The smell has a calming effect on them.  You may order them online for a minimum amount or you may get them from Echo Store locations.
7. Zenutrients, Echo Store and Potentilla
Zenutrients started with the miracle virgin coconut oil and evolved from there.  Now it's stand-alone store stands out on East Capitol Drive in Kapitolyo.  I love this slimming massage oil of theirs.  I don't know how much I've slimmed down because of it but it sure smells and feels good for massages.
Potentilla Diffusers smell good and last long.  If 12 of my friends gave me these, I wouldn't mind because my house would smell good all year long. Super cheap too!
We gave out this Spa in a Bottle from Echo Store to our clients a few years back and it was a hit.  I keep a bottle in the car, in my bag and on the bedside table because it really helps with migraines and headaches.  I have become addicted to the smell.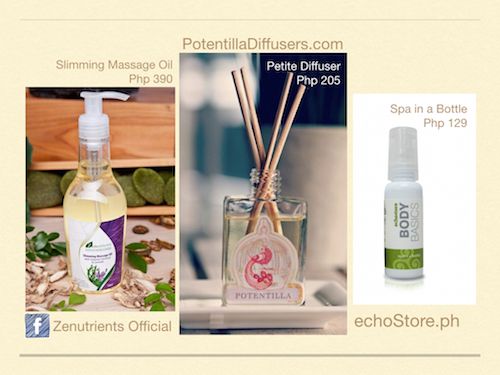 8. Piesa
I discovered Piesa through Apples and Dumplings and also at the 10Alabama fair.  What amazed me was how each piece was handmade by Paula and collaborated with her husband.  Each piece is unique and as their business grew, so did their creativity and their sales!  They started on Instagram and now they have a stall in Mega Fashion Hall.  So happy for you Paula!!  I personally have around 5 pieces from them.  I am a Piesa addict.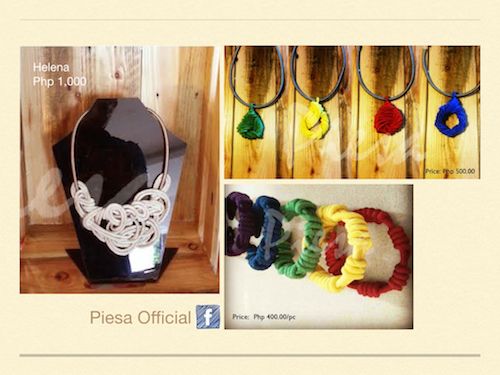 I like these products because I've seen them personally or I have most of them so I know how great they are.  Besides being great products, the thing that makes me proud to give these (even if I'm most likely giving the same things to many people) is that they're Pinoy-made and they each have their own stories.  These stories make the products all the more special as gifts.
So my relatives, clients, teachers, which ones of the above do you think you'll be getting for Christmas?   I'll start my panic online shopping now.
♦
If you know of any local products with great stories and you'd think would be great as Christmas gifts, leave a comment.
©OCMominManila