Yesterday, I posted about working together with M on her Olivia Lego Friends costume.  Today, I post about how we did N's Olaf-stylized costume.  Although I wanted to get away from the Frozen madness, I stayed with it because (you can't fight it!!) I didn't have time to think of anything else.  I wanted her to be a Lego block but when I showed her the Pinterest peg, she refused.  So here's our process on doing her Olaf outfit together:
1. I involved her in the concept. I showed her Olaf pegs.  M and I wanted her to choose the one on the left.  Guess which one she chose?  (NOTE: When doing this, DO NOT show the whole set of google images to your toddler.  Show only the ones you have pre-chosen.)  The peg on the right is still super cute.  It's just that I wanted it to be more costume-y.
2. We went to Carolina's on the 2F of SM Mega Mall B and bought 1/2 yards each of felt cloth in orange, brown and black.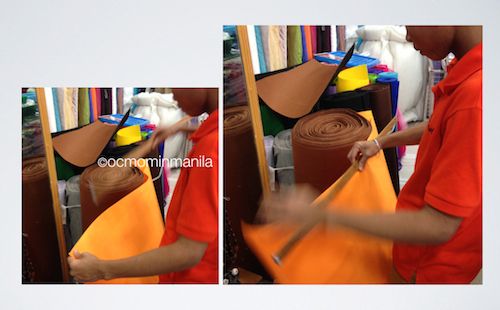 3. We looked for a plain white top and a tutu-like skirt (the thing that attracted to her to the peg in the first place).  I couldn't find a white tutu all over Mega Mall then when I got home, ate reminded me she had one so I dug it out of her old clothes storage.
4. I measured the length of the blank space for her top.  I Googled an Olaf image, face along with the buttons and arms, resized it to fit the space and printed.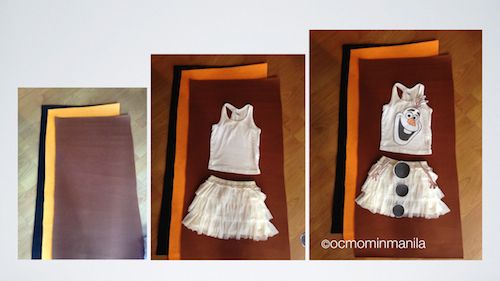 5. I used the print out as a guide to cut the head of Olaf and buttons from the black felt, the arms from the brown, the nose from the orange.  Ate helped me cut the print out, pin it to the cloth and cut some parts.
6. Then I sewed all of the pieces onto the garments.  N helped by saying "aw, it's cute" all throughout the process.
7. Because Olaf's head needed to be tilted to fit, Ate and I decided to tilt the buttons as well on the skirt.  We also placed his arms by her hips.
8. N chose her accessories – a 7yo  pumpkin bucket and her Anna doll from The Wagon Shop (@TheWagonShop).
For our Oreo Halloween Trip and Treats party in Tagaytay, she wore the costume and actually won a prize (I think the criteria was cuteness and had nothing to do with the costume haha).  Here she is munching on a piece of ghost chocolate, drinking milk from a mummy jar, and winning Oreos from the Oreo Marketing team – Mari and Princess.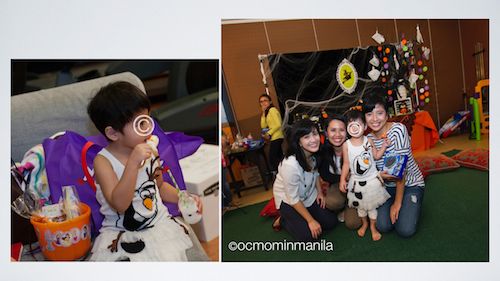 Her costume amounted to a total of P250 in cloth, printer ink, needle and thread as well as about 6 hours between me and her ate working on it together.  That's what I'll probably look forward to every Halloween — working on their costumes together with them — thinking of the concept, negotiating, scavenger hunting, and creating — with my two precious girls.
Nothing could be better.
… And of course, there's enjoying the treats together too.
A happy Halloween to all you DIY costume moms!  We deserve our own treats after every Halloween.
©OCMominManila