Did you know that almost 90% of Filipinos have cavities?  Did you also know that non-communicable diseases are linked to oral health (Read more mayoclinic.org)?
These are what I learned in the Colgate #CavityFreeFuture event.  I used to be a brand manager of a toothbrush brand I remember that in the Philippines, sales of toothbrushes averaged 1 piece per household per year.  In a recent Rappler event #2030Now, they also cited that there are more mobile phones than toothbrushes in the Philippines.  Alarming facts right there!
So it's nice to know that the DOH, the UP College of Dentistry and private corporations like Colgate Palmolive, are working together to address oral health.  One of the things they're working on is to educate kids in public schools about overall health — handwashing and oral health — and their studies have shown dramatic results.  The amazing thing is — it only takes P25 per child per year to run this program.  This is something I am definitely interested in supporting with donations or spreading information.
In line with these efforts, Colgate runs the Bright Smiles Bright Futures Program which is part of the curriculum in 100% of public schools.  The global vision of the program is to reach 1 billion kids worldwide by 2020.  It is a laudable effort.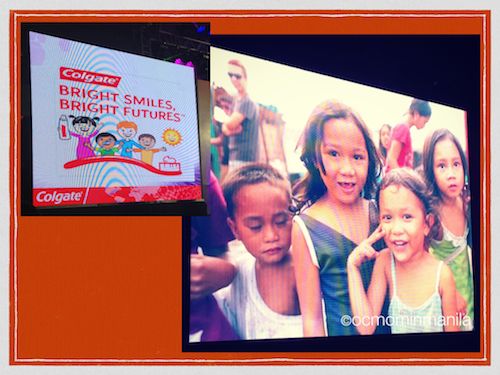 From the event, I also learned that the biggest cause of cavities are sugar acids that come from all kinds of food.  Here's our menu from that night and it was pretty weird that they served us cheesecake and veggies as appetizers but they were apparently trying to prove a point — sugar acids are present in sweets, carbs, veggies, almost everything.
Sugar acids = Cavities = Overall Unhealth — yes, I'm scaring myself again but it is a little scary.  So I have tried to simplify the ways to achieve a #CavityFreeFuture for my kids.  Here they are:
1. Talk about the importance of oral health.  Buy books that have oral health topics.  This book of M is part of her home reading program and it reinforces how essential oral health is (and since it's from school, it's more believable!).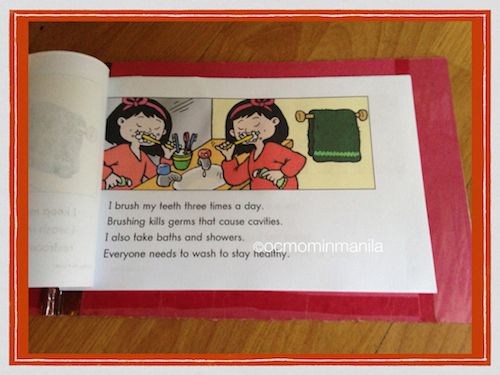 2. Supervise their toothbrushing at least twice a day.  Make it fun.  Sing songs (2x the happy birthday song).  Do the last brush over yourself to check.  Here's N in her Little Red Riding Hood cape — she looks like a Super Colgate character.
3. Floss!!!
4. Bring them to a non-threatening pedia dentist religiously 2x a year.  We do it during sem break and summer.  Our pedia-dentist is Dr. Eric Hernandez in St. Lukes Global.  The girls love him and are not scared of going to him at all.  He gives them tokens and stickers after the visit too.
Here's N at Dr. eric's clinic and she is saying this is a drawing of him.
Dr. Eric Hernandez
(02) 577 1936
5. Use a fluoride toothpaste that doesn't have triclosan.  The new Colgate has sugar acid neutralizers that helps deactivate the sugar acids in plaque.  The sugar acids are the ones that cause cavities.
For kids, a smear of toothpaste is enough on their toothbrush.  Dr. Eric's advice – just spit the excess toothpaste and don't rinse.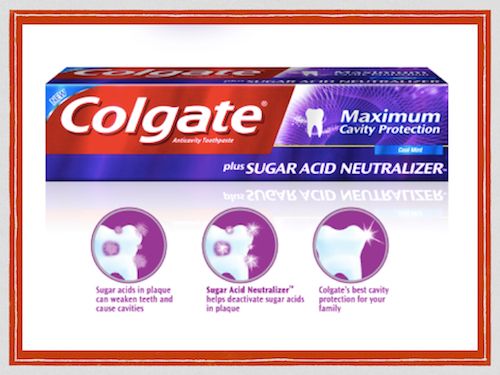 6. Take lots of selfies to admire your cavity-free teeth.  Yup, she did this herself.
Smile!
©OCMominManila