Can you believe my daughter does not like spaghetti?  Can a kid get pickier than that?  In a recent pedia visit, the doctor said her weight was plateauing and recommended appetite stimulants.  She also said — and this was a pretty obvious no-brainer prescription — that we should make her eat more.
But food is kind of boring for her.  I myself was a picky eater too … I think until college!  I remember draining my nilagang baka from all the juice and eating it dry (at 5 yo NOT in college!).
I also hate cooking (the supermommy award goes to…) … but I do like attempting to be creative and after seeing all the bento posts of the BentoMommas in the past year, I thought
"Could the creativity of bento be the answer to my genetically passed-on picky-eaterness (whut?)?"
So here is my bento how-to in attempting to make my (and your) picky eater eat more:
1. Wash your hands.  Use soap and water for 2 minutes.  None of this lazy hand sanitizer stuff.
2. Stop thinking that bento is hard.  It's just about using a little imagination (and basic shaping skills).
3. Hey, did you just scratch your nose there?  Wash your hands again.
4. (Serious na…) Imagine a cute animal — did you think of a bear?  Good thing, that's what we did. (#seriousnotserious)
Put some brown rice into a sandwich bag and push it down to the corner.
Make a round shape with the rice.  Come up with a slightly flat round object as big as a regular-sized pandesal.
Using the same sandwich-bag rice-shaping technique, make 2 smaller circles.
Get some white rice and make an oblong shape for the snout.
Get some nori and shape them into eyes and eye brows (in my case, steal the nori shaped like eyes from the BentoMommas because they have a puncher for this sort of thing.)
Try out some options for the nose and mouth with the nori.
I was amazed at how easy this was!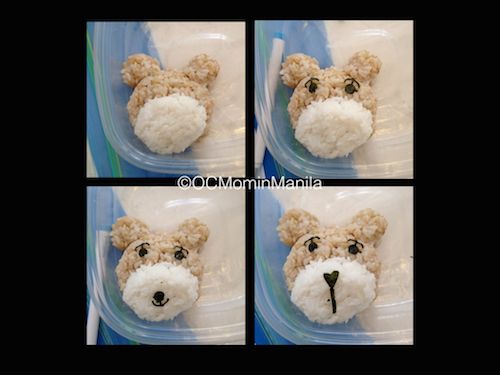 This is essentially the main piece in the bento!  So after this, it's just adding the meat, literally.
5. Add the fried chicken, broccoli, corn, some apple slices which I carved with a very small carving knife (this is also not as hard as it looks!).
Put some separators or section them using cupcake liners
Make the small box look full so it doesn't fall apart.
6. Add in the Oreos for dessert and an incentive for eating his/ her lunch.  My daughter's favorite is strawberry creme!
7. Add a small note on top of your bento box to tell your kid to "Have a beary nice day!"
You can do so many things with bento.  In the BetterMe bento event, there was an Oreo #BetterTogether challenge where the moms and kids showed their creativity by creating charabens using Oreo and other materials available.  Here's what the moms came up with: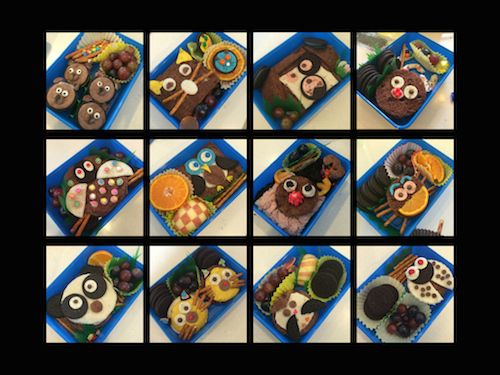 They used bread, pretzels, oranges, the cream inside the Oreos (check out the blue eyes of the owl from MommanManila), the Oreo outer cookies, chocolate chips, etc.  It was just amazing!  Good job moms!
This one was particularly creative and unique — it was a bee from Didi (the Candishhh Tales) and her daughter Kailee.  The one on the right is her plumpy bear bento.
All the moms and kids had lots of fun.  And my M said she will eat more if it's a bento baon (do I smell success?  Or is that mayonnaise?).
Thank you to the BentoMommas (@thebentomommas on IG and twitter) for making us better bento designers.
And thank you to Oreo for supporting a really fun event (especially for the little boys who went from mom to mom asking for Oreos).
©OCMominManila