As a mom, schedules are not clear cut.  Time to bring/ pick up your kid from school intersects with work telecons, going to the supermarket, checking up on the office, spending time with the husband and girl #2 and yes, ME TIME!  Me time doesn't sound too real eh? Maybe because there isn't enough of it to go around!  Haha.  Nevertheless, I have me time and these are the things I carve into the schedule, in the order of how much time I have for it:
1. Eat 
Priorities!  I like eating, even when I'm alone, especially in the San Juan area while waiting to pick up from school.  I'll do a post on the restos on the San Juan area soon.
2. Pilates at One Life Studio
This has to follow #1.
I've been doing pilates since 2000 (I remember working out at Renaissance then going to Ay-See after!  Remember that Anne, Gel, Bessie?).  When I was pregnant with M, I did pilates up to my 38th week. I stopped for several years, then this year, I took it up again at One Life Studio in San Juan.
It's a 1-hour core work out on the reformer and it's the most effective work out for me.  In their studio, they also have other classes — yoga, zumba, belly dance, suspend — all of which I've tried and liked but it's really pilates that fits into M's school schedule.
I love the staff and instructors in One Life Studio.  The atmosphere is welcoming and not intimidating.  Most of my classmates are moms too (I guess it's the time of day).  
One Life also just opened a studio in Makati on P. Tamo extension so I plan to go there too when I have meetings in the Makati area.
To maximize my unlimited membership, I try to go to a class at least 3 times a week.  I love it so much, I paid for my membership until March next year! (This way, I force myself to work out.)
♦
One Life Studio: Website, Facebook, IG and Twitter: @onelifestudio
3. Myotherapy and Chiropractic Adjustment
Every week, Doctor Skip Pizarro, the chiropractor referred to me by MyMommyology, comes to our house on his e-bike, along with his able myotherapist (whom I teasingly call the torturer), Gerson, lugging a massage table.  They are ultra professional.
They put hot packs on my back as well as TENS (this machine that sends electricity through nerves to help relieve muscle pain), then Gerson targets the aching muscles (sometimes I don't even know those muscles ache!) and does his magical myotherapy or deep tissue massage.  After the massage, Doc Skip works his chiropractic adjustments.
A chiropractor who does house calls!  Isn't that the best??  Doc Skip is super nice and he really does a lot of good for my tense muscles.  He also teaches me the right posture and even the right sleeping position with my pillows! (I should blog about that too!)  He also works with the DOH in growing the industry here in the Philippines.  He is a gem.
♦
Doc Skip is certified in the US and owns Safe Haven Chiropractic Wellness Clinic here in Manila and Cebu.  I will ask him if I can give out his number.  In the meantime, leave a comment if you want a house call.
4. Getting a foot spa and pedi at Nail It Salon
Every 2 to 3 weeks, I get a foot spa and pedi.  One of the places I like is Nail It Salon on the building of S&R on Shaw Blvd.  I like them because of their OC factor: they sanitize their instruments; they put a blanket over the seats befor you sit on them; the chairs are big enough to accommodate your bag; and the nail technicians have masks! (good that they're protected too) and they have matching buns, eye make up and pearl studs (I noticed! haha).
A good friend owns Nail It Salon and I trust her abilities to maintain the OC-ness of the place.
♦
Nail It Salon: 0917-8338807, Facebook, IG and Twitter: @Nail_It_Salon
5. #BetterMe Sessions
We have regular #BetterMe sessions for moms every month and although I initially did it for my kids, it's actually helping me understand myself and be a better person, first and foremost.  Being better at motherhood naturally follows (hopefully).
The #BetterMe sessions take us to different venues around the metro.  Recently, we had one at Seda Hotel in BGC.  I had been seeing it when I go to High Street but had not been inside.  It's the kind of hotel I actually like — just the right size, clean, classic designs, not a lot of frou-frou.
We had our session at their business meeting floor where they have several meeting room options.  The food they served was surprisingly good — I say surprising because sometimes hotel food can be bland.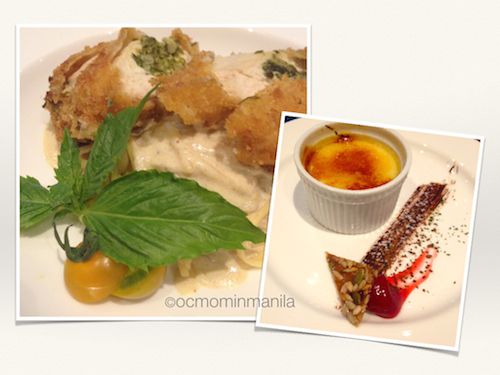 You can read more about the sessions from my other BetterMe posts.   Email me if you want to be invited to future BetterMe sessions.
♦
Seda Hotel: Website, Facebook, Instagram and Twitter: @sedahotels
6. Haircut at Toni and Guy with Cherry Reyes
I get a hair cut from Cherry Reyes every 2 months at Toni and Guy at SM Aura.  It's a celebrity-filled salon where I've seen Jasmine Curtis and her boyfriend Sam Concepcion, Dingdong Dantes and even Gary V!!
A bit of trivia on Cherry — her husband is Chot Reyes, famous Gilas coach!
♦
Toni & Guy: Facebook, Instagram and Twitter: @ToniandGuyPH
7. Facials and Lipo Smash at Aesthetic Science
Facials SHOULD be done once a month but I admit, it's one of the things I sacrifice!  I know I shouldn't.  I probably do facials once every 6 months only!!
I've tried a few facial places and I literally cry during these sessions because my face is very dry.  In Aesthetic Science though, I hardly feel the pain.  It's always a pleasant experience and the price is super affordable too.  It's less than 1,000 per session and you can pay per session!
I also tried doing Lipo Smash where they used some form of ultra sound and some electro-things (sorry I got lost on the technical terms) on my tummy and hips because they had a really good promo at the start of this year.  For the time that I was doing it, it was working because my tummy went from bunt cake to giant bagel (Sorry horror images!! Be glad I didn't take pics) but then after the sessions, we went on vacation to Vancouver then the bunt cake turned into something you wouldn't want to imagine further.  In the end, I feel, it's really diet and pilates that will sustain my tummy fat loss.  And if that doesn't happen, then I will turn to Dr. Yanee in Aesthetic Science for liposuction.
♦
Aesthetic Science is located in Jupiter St. in Makati and Alabang
Website, Facebook, IG and Twitter: @AestheticScienceClinic
8. Luxury massages and Spa-time
OK, this one I have time to do maybe once a year.   Most of the time, it's when we go on vacation to a resort.  In Manila, it gets harder to do it because it seems like a real luxury.  I got to try Quan Spa in Marriott though and it was truly a happy one-and-a-half-hour retreat.
I had a De-Stress Massage where they used this therapeutic Pevonia Moor black mud on my back. The masseuse told me it had vitamins, minerals and enzymes that could heal my aching back. Their massage room was as big as (or maybe even bigger than) a hotel room with a walk-in closet and a shower.  I could live there and stretch my me-time to 2 days and I wouldn't even remember I had kids (Just kidding! Hahaha).
Quan sells Pevonia spa products in their shop.  I love the body oil spray.  It's my favorite after-gym product.
♦
Quan Spa: Contact +63 2 9889999 ext. 8045, website
Pevonia website
So there — food, fitness, ka-kikayan, relaxation and self-improvement — those fill my me times for the whole year.  Sometimes, I seriously want me time in another country!  In the meantime, I shall stick to my 8 wonderful options here.
Share your own me time habits with me!
©OCMominManila