Here's one of the things we did while electricity was out during Typhoon Glenda.  We created Bumblebee's face from Oreos.  Here's how:
1. Materials: cutting board, foil or wax paper, knife, ziplock and Oreo Action Fruit Creme.
2. We downloaded a bumblebee face image from Google Images.  I printed it out in gray scale.  M cut it.
3. We washed hands very well!
4. I put the template face inside the ziplock because we didn't want printer ink and paper on the food.  This way we can put the materials over the template to guide us.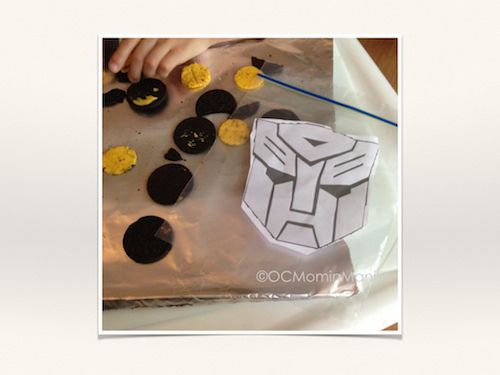 5. M expertly scraped off the Action Fruit Creme with a bread knife — very carefully.  Then she helped me mold and shape the face.  The insides would use the creme.  The outlines would be the cookie.
6. In between cooking, M ate the Oreo.  And she had Elsa help us.  (Elsa washed her hands too.  She also took off her clothes because it's so hot in this country, even with a storm.)
7. And here we are.  I couldn't take work in progress photos because my fingers were dirty and I didn't want to touch my phone (haha).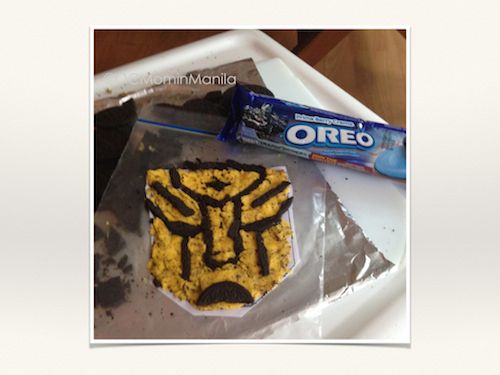 I don't know if it looks like Bumblebee or Simba.  Next up, we'll try Optimus Prime!  (Maybe he'll turn out like Smurfette.)
♦
Can you #OreoTransform too?  If your creation is chosen, you can win 2 Ayala movie passes and an Oreo gift pack.  Here's how:
Download the Oreo DIT app and register.  Add a photo in the memory book of an activity your family did together related to Oreo and Transformers.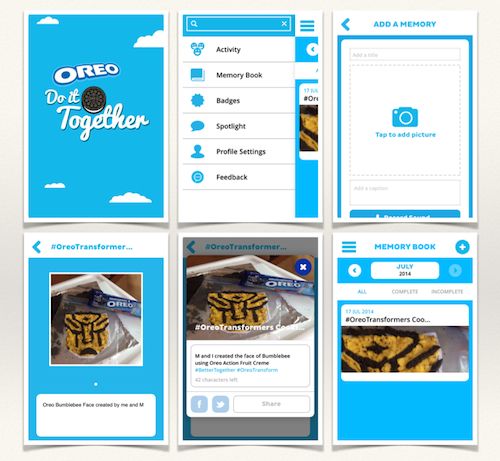 Share your photo on Twitter using the hash tag #OreoTransform.
Follow @OreoPH and @OCMominManila on Twitter.
Deadline for posts is July 31, 2014.
The 6 most creative entries will win an Oreo gift pack and 2 Ayala movie passes each.  @OreoPH will announce the winners and deliver them to the provided addresses within the Philippines.
♦
8. Oh and yeah, we ate our Bumblebee art after!  It's minty and sweet!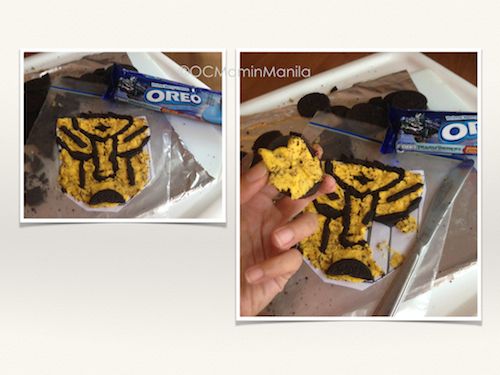 9. And we washed hands again!  (See title of my blog if you don't get it.)
©OCMominManila