We've had two #BetterMe sessions for the year and both have been sponsored by buffets.   Along with their overflowing food, we'd like to thank them for their overflowing generosity.  Thank you Pia, Mara, Cara and Bokie Villavicencio for opening your (kitchen) doors to the SoMoms and our guests (and if you know the SoMoms, we just love to eat so buffets are really perfect!).
Dads World Buffet Mega Mall
The Villavicencio household has been familiar to me since grade school.  Pia would invite her classmates over for play dates (I don't know what we called it then) and lunches (turned dinners and parties in high school, college and after).  Every event in the Villavicencio household had crowds of family and friends enjoying great food — so it was not a surprise when Cara Villavicencio mentioned to us that this was really the inspiration and vision of Dads and even their buffet concepts.  It was to bring together big families, enjoying food the way Filipinos love to do.
What's a Filipino celebration without lechon? In Dads, there's lechon everyday.  (You can also spot stylish lolas walking about. I love her dress!)
Its called World Buffet because they have food offerings from 14 different countries.  My favorite (and I feel pinakasulit) is still the Saisaki Japanese section. (I can eat sushi all day!)    Cara told us that food safety is a priority to them because the temperature of raw food is essential in keeping it safe for consumption for the duration of the buffet periods.  (That is a reflief!)
At Dads, the buffet price includes drinks and different kinds of shakes (my kids love these!) and kids below 3ft eat for free (which is very considerate of them because they don't really eat a lot).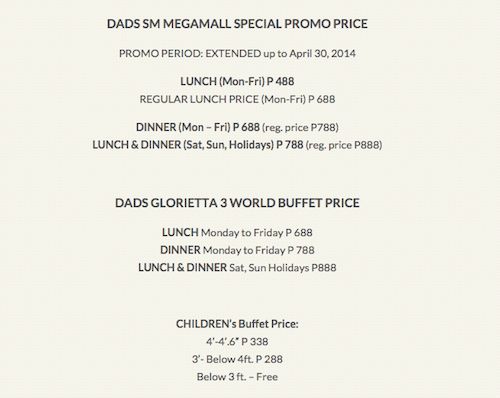 Up to the end of April, Dads Mega Mall has a special promo rate, perfect for celebrating graduation.  Plus, you get a free buffet on your birthday too!
Follow Dads on Facebook or their website to know more about their promos and offerings.
Sambo Kojin
Sambo Kojin means kitchen god in Japanese, as relayed to us by Bokie Villavicencio (I remember going to his 7th birthday party!!), Managing Director of Sambo Kojin (managing director na siya, I feel so old!).
I love Sambo Kojin because of the yakiniku.  The kids enjoy cooking their own food!  Man, that asparagus wrapped in bacon and grilled is yummy.  And their special sauces are awesome too!
And once again, I feasted on the Japanese buffet — sushi, sashimi, sukiyaki, tempura, gyoza and kamameshi.  Loved all of them!
I'm really not sulit when it comes to buffets because I don't eat a lot (yes, Tanya, my friend, I'm sure you will disagree) but with the food you eat at Sambo Kojin, the rates are great even if you just have one round.  (May I just say na lugi kayo sa dad ko by giving him 50% off).
Can I just say I'm not a fan of buffet craziness – the lines (and my brain going overdrive on hoping there's a serving tong for every dish) and the crowds.  At Sambo Kojin, they spoil you somewhat because the waiters actually ask you what you want and they can bring that to you.  Pretty cool.
Follow Sambo Kojin on Facebook or their website for updates and promos.
♦
Again, thank you Dads and Sambo Kojin for sponsoring our #BetterMe sessions and believing in what we do.  Thank you for giving Filipino families an affordable venue for celebrations.  And my mother thanks you for feeding her freeloader daughter many times in high school.
©OCMominManila