Who remembers that ad "Goodbye bunot, hello Pronto?"?  Amazing how it's stuck to my brain.  I used to do a lot of household chores as a member of my mother's household — walis (tambo and tingting), bunot, floor polishing (think of that giant round thing those janitors push around in hotel lobbies) the marble, scrubbing the pebble wash out … that was how we spent our weekends and summers as kids (sounds like a child labor camp).  Just ask my friends who mistakenly went to our house thinking they'd spend a lazy day watching TV.  Hahaha.
Cut to 30 years later, in August of 2013, and I again, was subjected to everyday chores because I became helpless, literally.  And when you start doing things yourself as an adult, you suddenly realize that the right tools are super important.  It was around that time I met the distributor of Tonkita in the Philippines (they generously sponsored one of our #BetterMe sessions on communicating with our helpers) and she opened my eyes to the wonderful new standard  of cleaning implements.
The brand Arix has been around for 60 years in Europe.  They acquired the Tonkita brand in 2011 and since then, they've been manufacturing products that are fully recyclable. The bristles of their brushes are made from recycled materials.  My favorite (yes, I have a favorite) product is the outdoor broom — the bristles are rigid enough to sweep leaves and are able to withstand wetness.  I also love that lobby dust pan (that's what they call it) because the handle is tall!  You don't have to hurt your back bending.
They have indoor brooms, scrubbers, and so many different kinds of mops — microfibre, cotton, terry cloth — whatever your floor or requirement, they have a mop for it!   I chose the puligenix for dry-mopping the inside of the house and getting dust and hair (it's kinda like a swiffer), then we use a cotton mop for wet mopping.  We also have a different mop for the upstairs bedrooms.
They also have this floor wiper.  It's like a squegee but for the floor – so it's longer.  We use this for the outsides of the house — garage, patio.  After wiping with this, we use the Microfibre mop for drying up.  That's 4 separate tools for the floor!  The thing I like about Tonkita is you can just buy the heads.  The handles fit  the different heads for the mops, brooms and wipers.
My OC mom taught me to have a knife specifically for cleaning.  I have one for cleaning gunk on edges of the floor that won't get removed by mopping.  Tonkita made something especially for this!!  It's called the spazzoleria (doesn't that make cleaning gunk sound cool)?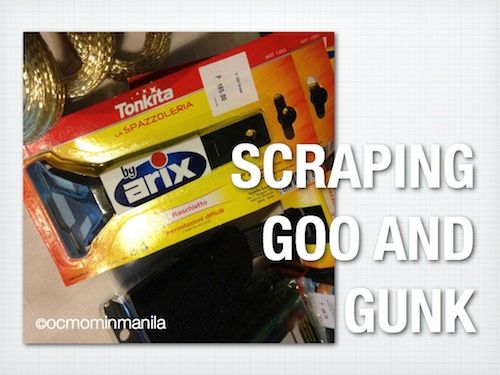 Then there are the hand tools.  Yes, I have all these.  I'll just talk about a few:
1. The Rimedio Synth is like the magic eraser — it's good for cleaning the old white Macbooks (haha). I saw a tip on the net which said you could get slivers of this, drop it into your toilet bowl and the rings that won't get removed in the bowl would.  I haven't tried it because I don't know if it's biodegradable.
3.  We have bottle brushes for the glass bottles we use for storing our Aquasana-filtered water in the ref.
4. Window wipers/ squeegees for glass doors and shower partitions
5. I keep this handy dust pan and brush in the car and also in the house for when I want to ask help from the kids.
For the kitchen, I got their multi-colored scrubbers.  The color code helps so you use a different scrubber for pots and pans, plates and glasses and what the kids use.  They also have these ultra-absorbent big sponges which are great for wiping up wet messes in the kitchen instead of using ugly basahan.  They're color-coded too.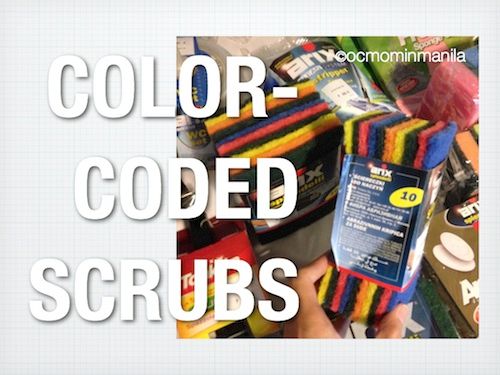 Then they have this grill/ pan scrubber that has a thick sponge on one side and hard bristles on the other side.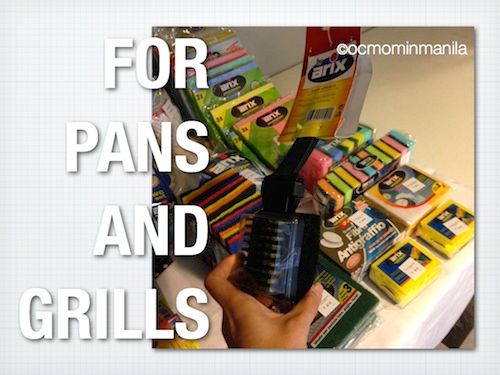 We're all so used to walis tambo and tingting but really there are better alternatives (and I don't say this to be anti-patriotic).  The Tonkita products are very sturdy (they don't lose or break strands easily).  They can be cleaned by soap and water after every use (try doing that to a tambo!!).  And aesthetically, they look really nice.
Now, if we innovated on the tambo and tingting, I would  pay attention again.  In the meantime, I have newfound friends.  (Hey look, it's that famous stock photo girl!)
Tonkita is available in True Value, Handyman, Ace, Pioneer Center, Home Depot, Wilcon, etc.  Follow Arix Philippines, the distributor of Tonkita in the Philippines, on Facebook.
P.S. I wasn't paid for this post.  I just got a few products to try for free. Most of the Tonkita products at home I bought myself.  I was just ultra excited about their product lineup. Haha.
©OCMominManila