I have so many notebooks. At some point, I had one for each category of my life — for the home and the kids, for work, a Starbucks planner, a travel journal.  Was I stuck in grade school/ high school where one had to have a separate notebook per subject?  At the same time, I still kept notes on my iPhone and on my Mac so come mid-year, I had a mish-mash of digital and manual notes; and quarter-filled notebooks which I hardly referred to.
Then, my friend Eli, tagged me on Facebook on a video that promised to be the notebook of all notebooks — The Bullet Journal.  (Insert product reveal music)
It's the ultimate notebook for the OC in you.  It came with a video, it's own website and 70.4 million Google search results.  It was described as "the analog system for the digital age."
Honestly, after the going through their video and site, I got overwhelmed.  I think I watched the video twice and went through their site three times just to fully understand "the rules".  (What a geek!!)  Then, the peer pressure kicked in.  Friends Eli and Jen started buying their grid notebooks from Muji (it had to be the Muji grid notebook) and forever rebel Rone of Mothering Earthlings, who was extolling the Evernote app, posed a challenge — whoever was still using their planner/ note-taker of choice by year-end would win — win what (???!) — I don't even remember what the prize is but the competitiveness kicked in and the challenge was accepted!
On the Bullet Journal site, there are suggested guidelines on how it is meant to be used.  However, after using it for a month, I found my own Bullet Journal groove (I wonder if my daughter will think I'm cool or nerdy 20 years from now…) and I made my own version of the guidelines:
Bullet Journal Guidelines (as adapted by OC Mom in Manila)

(Please watch the original Bullet Journal video above and check their website for better understanding.)
1. Choose the right materials
Muji grid notebook
Black and Purple Pens (Dong-A U-Knock Gel Pen 0.5)
Pencil
Paper clips (preferably cute ones from Japan)
Case or cover so it still looks cool
2. Make an index spread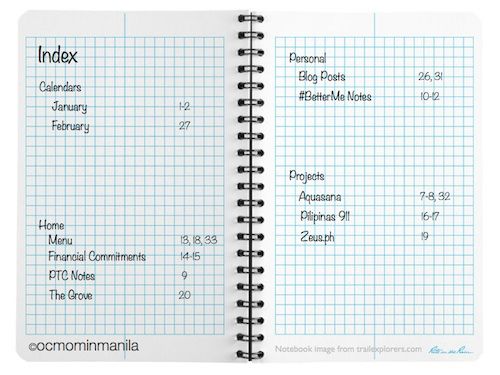 Leave 2 pages or 1 spread for your index.

Create categories:  Calendars, Personal, Work, Blog Posts

Put page numbers on your Journal as you go along, then indicate the page numbers on the index.  

As your Bullet Journal gets filled up, you fill in your index along with it.
It doesn't matter if you write to-dos on one page and a menu on the next.  The index makes it easier to track things down.
3. Create a vertical monthly calendar
Separate by weeks.
Put dates on column 1, day initials on column 2 then the events you have on the next column.
Use a pencil for tentative dates so it's not messy when you change scheds, which happens a lot.
Use your Bullet Journal calendar in tandem with your iCal for auto reminders.
4. Make to-do-lists by week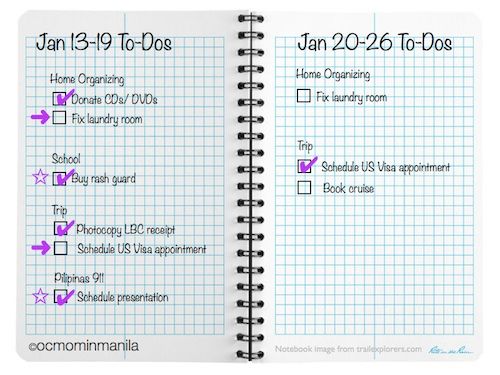 Use a check box for tasks.
Mark with a colored pen.
Put an arrow beside the box if you migrate the task to another week.
Mark priorities for the day with a star.
5. Note-Taking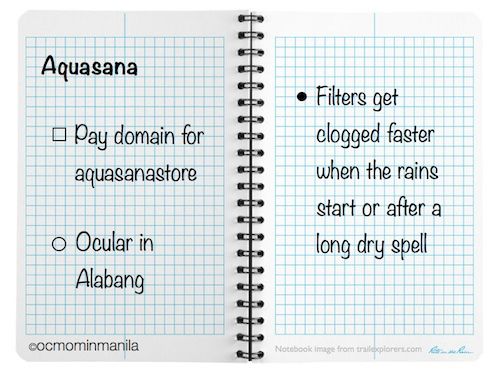 Bullet Journal suggests to use 3 symbols: a check box for tasks, a circle for events, and a bullet for notes.
After taking down notes, transfer events to the calendar and transfer tasks to your weekly to-do lists.
6. Use paper/ marking clips on pages you refer to often.  
I use marking clips on the current month calendar, the weekly to-do lists and my 10-million-pending-blog-posts pages.
Move the paper clips as you move on (literally and figuratively).
That's it!  I've given you my summarized pointers on how I adapted the Bullet Journal to my needs.
It's been more than a month since I started using this system and it actually works for me (of course there's some added pressure from the challenge! haha).  There's something about writing something physically that makes my brain work better.  All the migrating, referencing, indexing — the repetition — makes me remember a whole lot more … more than when I use apps or my Mac. (No, Apple, I still love you!!)
My advice is: try it out and adapt it to your style.  Maybe Bilbo Baggins journal was the ancestor of this one.  (OK, it's a stretch.  The title was enough reference.)
©OCMominManila