No holiday season is complete without several trips to the place that really … I mean really … their ad does not lie … has it all — that's SM Mega Mall.
When I go there though, most often there is a clear purpose in mind and I map out the places I need to go to.  Aside from the usual (supermarket, National Bookstore, etc.), here are my Mega Mall staple stops:
1. Essensuals Toni and Guy where I have my hair cut, colored and treated.  Located at the 3F Atrium building, just above Yabu and Gap.
2. SM Babies and SM Kids — 3F of the SM Department Store in Building B — where I shop for supplies, girls' basics (like socks and underwear) and (believe it), nice clothes.  They have nice brands under one place – like Gingersnaps, Peppermint, Bella Bella and some other nice brand discoveries.
3. SM Home section at the basement of the department store – for home staples.  The good hunter for this section is really 101 grams of eye candy.  She can imagine so many possibilities for very common-looking items and amazingly transforms them.
4. Chuck's Grub — THE place to get a quick bite of the best fish and chips in Manila.  Quick service and easy to eat food — that's what you need when you're in Mega Mall.  There's no time to waste but there's also no need to sacrifice — you still want to eat well.  It's great that they have space for tables and chairs already in this branch — and the interiors are pretty cool with all the casual walls of chalk board and the London Underground image.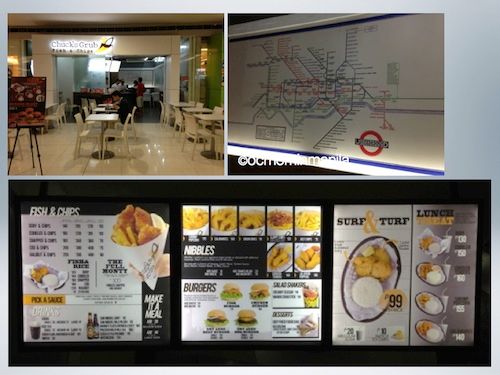 My favorite at Chuck's Grub fare is their Halibut combined with the simple vinegar sauce.  Sooo yummy — crunchy on the outside but soft yet cooked on the inside.
Their chips/ fries are also cooked really well — (Man, I'm getting hungry).  I tried the shrimp poppers and they are also super yummy!  I didn't realize they had burgers so maybe next time I will make my husband try (I'm the kind that is loyal to the food I already like on the menu).
Chuck's Grub is owned and managed by couple Enrique and Isha Valles, and when you hear them talk about fish and sauce and fries, you'll realize that they're super OC about making good fish and chips.  I was happily surprised to know they have many branches already: Fun Ranch, Power Plant Mall, SM Megamall, SM MO, SM North EDSA Skygarden and TriNoma.
Follow Chuck's Grub on Instagram (@ChucksGrubOfficial), Twitter (@ChucksGrub) and Facebook.
5. De Los Santos Mega Clinic.  That's where we have physiotherapy under Dr. Pie Aycardo for our aches and pains.  We also take the helpers here for pre-employment check-up where it's just P450 with x-ray.
6. And during Halloween and when I DIY the costumes for the girls, I normally go to Carolina's and the fabric shops on the basement.
Whenever I go to Mega Mall, it has to be at least 3 hours — at least!! — because there's really that much to get done.  What's your Mega Mall staple?
©OCMominManila