I love social media!  It has totally transformed the shopping experience.  Although the mall experience is still great, social media shopping has just extended it to the times when you can't go to them mall or when it's closed.  Heehee.
Here are my amazing finds on social media with the help of friends on social media.  Let's start with shoes!
1. Anthology
I discovered Anthology from Pat of 101 Grams of Eye Candy.  I also discovered more of it through Jen Tan (Attached at the Hip) who is extremely addicted to them, and of course Tita Karrots of Karotitay.  I've had Anthology shoes for a few years and I particularly love the wedges.  I love that they're so comfortable, I can actually run to catch the pedestrian walk light in them.  The price seems high for a local shoe but they use real leather and again, they're very comfy.  My only issue with them would be the flats — if you get them wet, like I did when we went to HK Disneyland and it was raining hard, the inside of the shoes get wet too and it's very hard to dry.  I've had to throw away 2 pairs because they got pretty wet and I couldn't salvage them — ok maarte ako.  In my mind mold was growing inside the shoe so I had to get rid of them — but I bought new ones and I just don't wear them in the rain anymore.
Follow Anthology on Facebook and online.
2. Renegade Folk
I discovered this because Rone of Mothering Earthlings announced a flash sale to us one time. She wanted to shop vicariously through us.  The sucker in me got these 2 pairs for 1,780!!  I love them!  They make me look like a giant and I now realize how tall people feel like (part of that is you have grand fears of literally falling on your face).  Despite the height, I was able to walk in the orange pair all over the new wing of Shangri-la for 2 hours.  The black ones were a little loose so I just bought some fillers from Mr. Quickie.
Follow Renegade Folk online, on Facebook, Twitter and Instagram.
3. Yellow Bird Shoes
I keep forgetting to ask Patty of Nonstopbabble why she named her business such.  Patty?  This is such a new baby.  She just launched two months ago!  Since then, she's been bringing sacks of shoes to our SoMoms #BetterMe sessions delivering orders to the SoMoms so there are really times when we see each other and we're all wearing the same shoes (it's like High School all over again).  I've bought 2 pairs.  Both are really comfy.  The sandals make my feet sexy.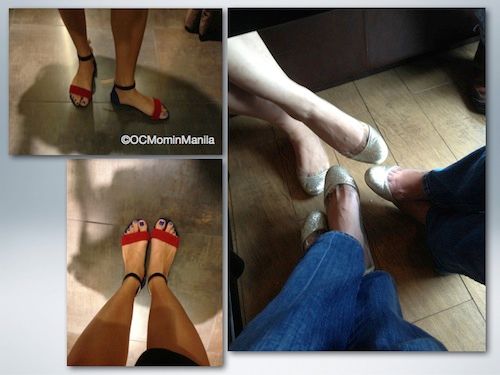 Follow Yellow Bird Shoes on Facebook, Twitter and Instagram.
4. Yosi Samra
I discovered Yosi Samra because of Christine Dychiao who gave them to me as a gift last Christmas.  (I have such nice friends!)  Yosi Samras are pretty, comfy and yet can pose as dressy even if they're very flat.  They're a must in your bag for every wedding and formal occasion where you just need a spare pair (spair?) to give your aching feet a break from those horror stilettos.  They also have styles for kids already!  Sooo cute.
Check out Yosi Samra Philippines on Facebook.
Those were the shoes.  Clothes and accessories next.
5. Seek the Uniq
Who hasn't heard of Seek the Uniq?  This is the account to follow on Instagram and Twitter because they announce their new stock there.  If you don't buy as soon as they announce, they will go out of stock in just a few minutes — seriously.
I bought a couple of kimonos and a dress.  Yes that's me in the photos.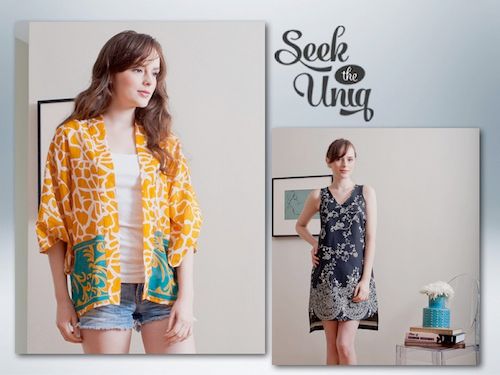 Follow Seek the Uniq online, on Facebook, Twitter and Instagram.
Last and my most favorite thus far …
6. Piesa by Phoebe
This one I discovered because of Cai Sio of Apples and Dumplings, who had a neighboring booth with Phoebe in one of the bazaars in Rockwell.  Then I started stalking her on Instagram and at the bazaars where she sold.  I like how each piece is created uniquely.  It's an art form in itself.  It's Filipino-made.  It's handmade.  It takes someone with a lot of taste and creativity to make this.  I love supporting artists and entrepreneurs who make beautiful and useful things.
Phoebe is also the nicest person.  With her designs, I'm more partial to the neutrals.  You can wear it with casual or formal attire.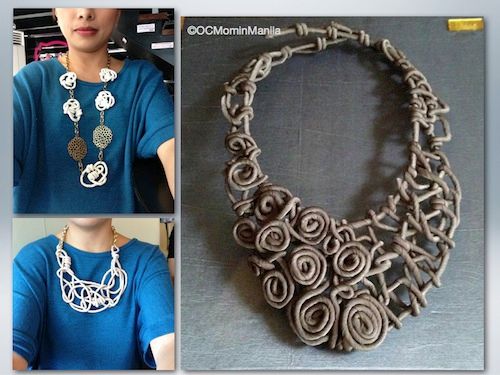 I want to get more pieces.  I don't have the pieces below yet but maybe soon???  I like that neutral one in the middle.  I think this will be one of my top gifts for Christmas for some of my girl friends.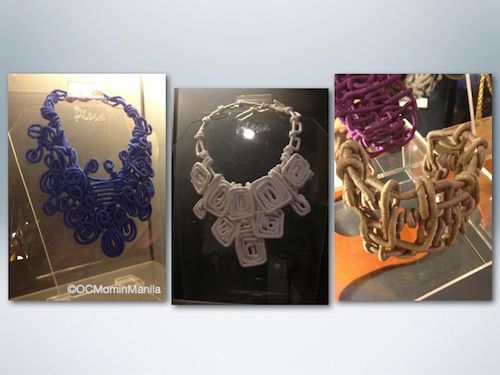 Follow Piesa by Phoebe on Instagram.
OK, as I go through this list I now know where the money intended for vaccinations went!
Just kidding!!
What are your favorite social media shopping sites/ accounts?  Share them with me!  On the other hand, maybe you shouldn't.
©OCMominManila