I'm not a dessert freak.  My biggest weakness is cheesecake, really.  With the kids, we try not to make them eat too much sweets.  However, once in a while, I take them on dessert dates and we have 2 particular favorites.
M loved her Cupcakes by Sonja experience last May with the other #SoKids.  They had a small cupcake-decorating party hosted by Sonja herself.  M felt like she met a celebrity.  Ever since then, the picky-eating M has started liking cupcakes. Cupcakes by Sonja does custom parties like these and they even do big cakes now!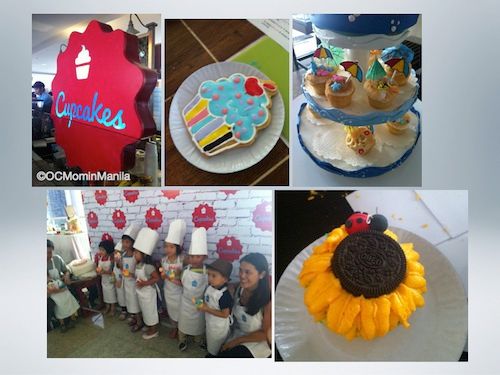 Cupcakes by Sonja was the first gourmet (do you call it that?) cupcake bakery in the Philippines (correct me if I'm wrong).  They were the first ones to do red velvet and make good quality cupcakes.  Before, it felt like you were paying so much but now, the price seems reasonable for cupcakes already.  Look at all those yummy cupcakes in that glass case.  Honestly, M just licks off the icing and I'm the one who eats the cupcake (or dada, well mostly dada).
Cupcakes by Sonja has expanded from its lone store in Serendra to Glorietta and soon, they'll be in Powerplant.
For N, her new favorite dessert place is Bono Gelato.  The creators of Bono studied in Italy to master making authentic gelato!!  Here's creator Rea Harrow on the left photo in the opening of their Podium branch.  On the right, you have M and N begging the chef (?) to finish the strawberry flavor.
Here's the ice cream monster.  We were supposed to share 1 cup but nooooo ….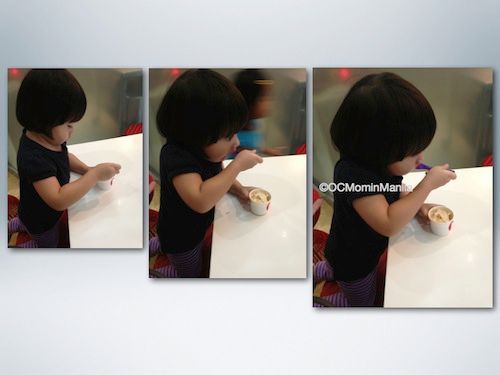 Bono Gelato's first branch was in SM Makati but I'm happy there's one nearby in Podium.  They also deliver within a 6km radius!!  N loves their waffle cookie.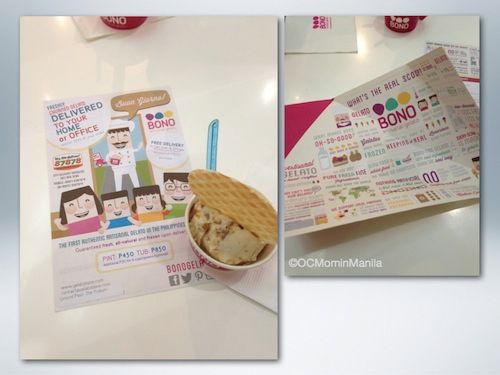 I super like their artwork and infographics, which are made by no other than owner Rea Harrow.  Love it!!
Dessert is also a great time to talk.  There are no negative feelings that spring up during dessert time … well maybe just issues and nagging calorie angels counting the added calories.  However, the calories are all worth it when you're having a good time with the kids.
♦
Cupcakes by Sonja
EMAIL: info@cupcakesbysonja.com
LANDLINE: (02) 915 2936
TWITTER and INSTAGRAM: @cupcakesbysonja
Bono Gelato
DELIVERY HOTLINE: 87878
TWITTER and INSTAGRAM: @bonogelato
©OCMominManila