So when I did my stint as katulongpreneur for a month, I realized that our processes at home needed some improving.  One of those things was the basahans or rags.  I wanted things to look the same, to be effective in mopping up wet spills and cleaning.  I didn't want the kitchen rags to be used for the furniture or for the hands.  I wanted them cleaned and changed every day.
So, here's what I came up with:
1. I got the old cloth diapers which we used as burp pads.  The girls don't use the old diapers anymore.  They're perfect because they're absorbent, plain and uniform.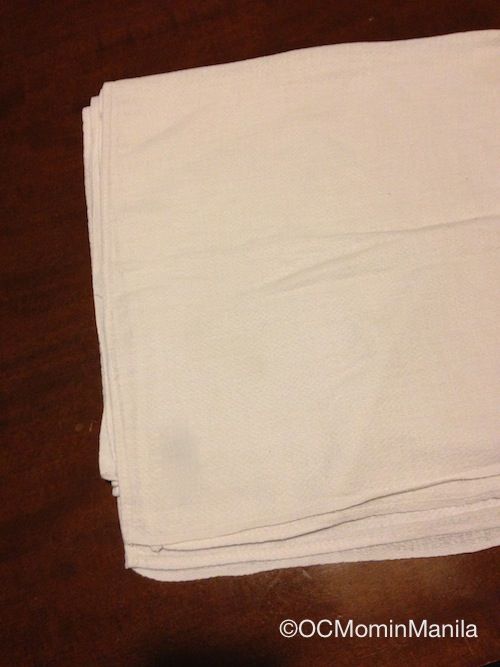 2. I gathered my materials: Scissors, rivet puncher, rivets, laundry pen, paper chic twine (because I really just want to make them nice).
3. I cut out the cloth diapers in half.
4. Then I mapped out the kinds of rags I needed: For the table, the kitchen sink, the hands, under the dish rack, the oven, cleaning the house, cleaning the bathrooms, cleaning the floors and extra for the kitchen.
Once I categorized them, I wrote these categories down on the corners of each cloth diaper along with the day they were to be used.  So I had 9 categories x 7 days = 63 rags.
5. I punched rivet holes into the corners with the puncher given to me by 101 grams of eye candy.  My friends give the most awesome gifts!  The rivets haven't rusted so far.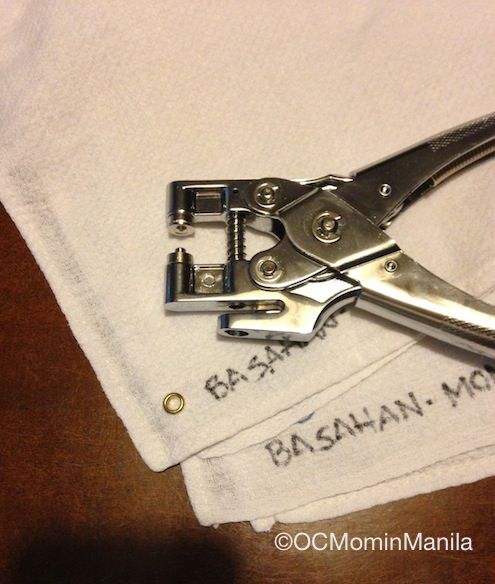 6. I cut up some Paper Chic twine and tied them through the rivets so that I could hang them in the knobs in the kitchen near where they are supposed to be used.  They look too cute to be used on mess haha.  I do wish I could color code the categories so I need to buy different colors from Apples and Dumplings.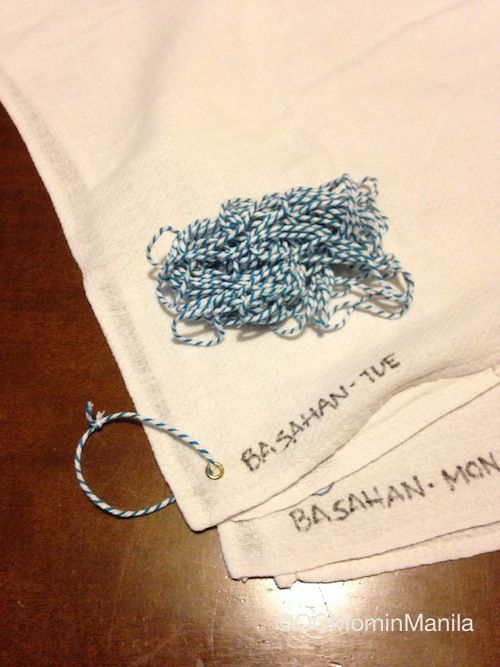 7. I have a trial helper already so I briefed her on which is to be used where and that everyday, each rag is to be replaced.
So there, that was my crazed project for the basahans.  Maybe I should sell rags like these!!  Here we go, the mompreneur instincts are sprouting ideas again.  Speaking of mompreneur ideas, if you're an itchy entrepreneur like me, for sure you'd love the Mompreneur Summit.  It's happening on September 14 and one of my admired entrepreneur couples (who sell the opposite of basahans) will be speaking on their successful business, Googoo and Gaga — Audrey and AJ Dimarucot, super creative and successful entrepreneurs.  AJ and Audrey now sell Googoo and Gaga in Paris!!  (I wonder kung ano ang basahan ni Audrey sa bahay…)
Other speakers are Anne Gonzalez of Havaianas, Amor Maclang, Jenni Epperson and Joy Abaquin, directress of Multiple Intelligence.  For more details on registration, visit mompreneurmanila.
I know, I'll collaborate with Audrey and AJ for chic OC basahans.  I'll sell them to sheiks.
©OCMominManila