I have a very small world when it comes to sneakers.  I've only tried Keds and Converse.  Keds seem simple and plain.  Converse, honestly, isn't comfortable.  I got a blister at the back of my foot the first time I wore them.  I've also worn it for long periods on travels.  They made my feet hurt.
I honestly thought that the pain of breaking shoes in was the norm, then Janice of Mommy Mundo introduced me to Feiyue.  Her cousin, Jaycee Dee, distributes Feiyue locally.  We visited their flagship store in the Sekai building (The Sekai Building is right after the Ortigas gate of North Greenhills).
Feiyue was first manufactured in Shanghai in the 1920's.  It literally means "Flying Forward" in Chinese. (I can imagine this coming from those kung fu masters flying in their sneakers.)   In 2006, it was re-invented by a group of French sneaker enthusiasts, giving the shoe more urban designs but still retaining its comfort.
Structurally, it reminds me of the Dragonfly way back when we were younger.  Design-wise, it's much more than that.  It comes in a variety of colors, cuts and designs.  It actually took me an hour to choose which design I wanted for myself,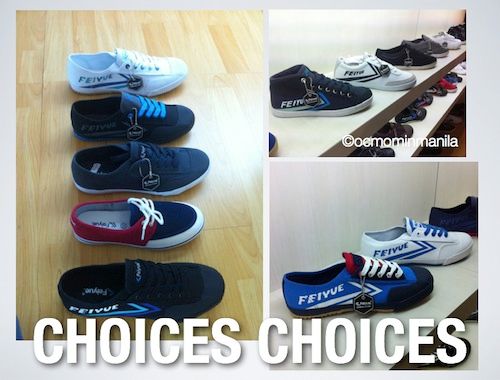 and for my daughter.  The kids' designs were super cute!!!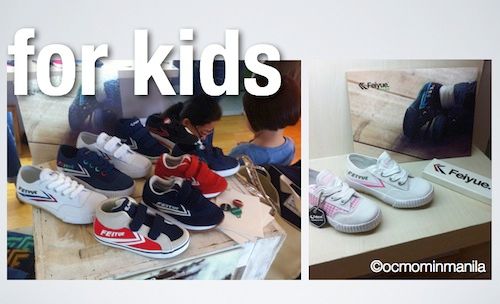 In the end, I liked the simple white sneaker with the black logo.  I got the classic red and blue logo for M with velcro straps for ease of wearing.
They're very comfortable.  I have not felt any rubbing or chaffing on any part of my foot.  I used them on long walks and a trip out of town and my feet didn't hurt!!  Good job Feiyue on the design of these shoes.  The break-in pain was non-existent.  It can be done!
Now, I want to get another pair for me and M — maybe in black or navy (so it doesn't bring out the OC too often).  The adult pairs are only less than 3k and the kids' shoes are less than 2k.  These will be M's everyday school shoes because I know they'll be comfortable for sure.
♦
Follow Feiyue on
Facebook: Feiyue Philippines
Twitter: @FeiyuePhil
Instagram: @FeiyuePhilippines
©OCMominManila