As I write my post intended to be about school shoes, I am distracted by the display of my baby monitor.  We have 2 girls but I only got a monitor last month.  With my first daughter M, we didn't feel like we needed one.  I was a bit (ok, maybe a lot) of a control freak with her.  Her schedules (people say you should call it a routine but let's admit it, eventually, it really becomes a schedule) were timed to the minute.  Her sleep schedule was where I got most neurotic.  I would go up to the nursery at the 20, 30, 45-minute marks to check on her REM, breathing, and to prevent her from waking up when she jolted.  I took the quickest baths, calls of nature and I mastered the art of sleeping while sitting down with my head on the arm of the crib.  (In hindsight, yes, I needed a monitor then.  I was just too stubborn to think I needed help.)
For girl #2, N, I am admittedly more relaxed with sleep.  The schedule is still there but I don't turn into momzilla if there are some mishaps.  It helps that, unlike M, N doesn't have reflux so she is much easier to put to bed and when she sleeps, she sleeps.  She doesn't wake up at the 20, 30 or 45-minute marks.  After putting her to sleep at night, I go down to work with the Philips Avent baby monitor beside my Mac.  It helps me watch her from the ground floor.  She also knows what the monitor is so when she wakes up, she goes up to it and says "Dada? Mama?" like she's talking to us through it.
M, who is 5, still doesn't want to wake up alone.  She cries when she doesn't find anyone beside her.  When I see that she's awake, I turn on the music remotely on the monitor and she looks up at it, smiles and waves.  She knows she's not alone.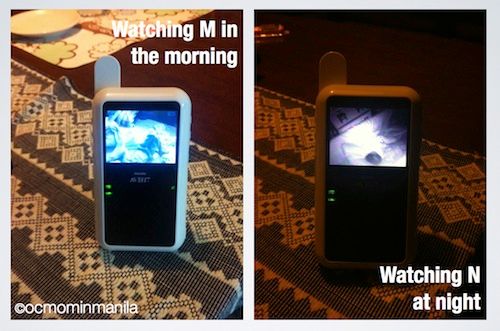 It's amazing how much information we store about our kids in our head — the way they sleep and wake up, their birth weights, snap shots of their smiles, symptoms when they get sick …  each girl is different and brings different experiences.
An impromptu self-improvement realization:
I will stop comparing one child to the next.  They are unique in their own ways.
Sometimes I just can't help it.  Each one is a benchmark.  I have to constantly remind myself to focus on the uniqueness rather than see one as being better, faster, smarter, sweeter than the other.
M was always ahead of her developmental milestones — sitting, walking, talking.  She slept in her crib from month 2.  She's extremely smart.  She started doing puzzles for 4+ when she was 2.  She quit diapers and baby bottles cold turkey the day she turned 3.  She learned to read by herself at age 4.  She hated ballet but loves gymnastics.  She's turning 6 next month but she seems like she's going on 66.  She doesn't want to watch Brave but loves Project Runway and Modern Family.  She hates meal times and is the poster child for picky eating.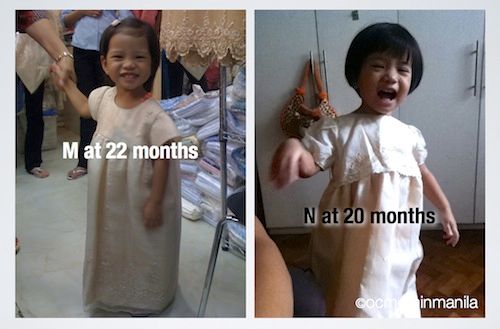 My 20-month old N is extremely malambing.  She hugs her yaya in the middle of a meal.  She loves putting lotion on her dada's legs.  She is extremely social and likes greeting people.  She follows me to the bathroom all the time.  She is the reason for our one-bedroom everyone-sleeps-on-the-floor setup.  She is scared of trains.  She doesn't have any feelings for Dora. She eats anything and everything then she has another meal for dessert.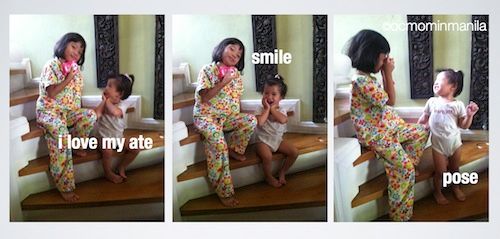 They are different in so many ways.  I'm actually finding it hard to find similarities between them.  With each, my stories are different.  It's like I am a new mom again but I have the benefit of experience.  I don't claim to be a "mom expert" but I know I'm the expert when it comes to these 2 girls.
Wow, such reminiscing and emotion from watching a small baby monitor screen with nothing but a sleeping child in it!  Maybe I'll write about school shoes on Wednesday and I will turn off the monitor screen and just keep the sound on so it doesn't distract me.
©OCMominManila