I have a good friend Juni, who blogs at Of Dots and Things.  Every year, on my birthday, she reminds me to have a day to myself — to stop working.  For some reason, I can't remember if I've ever done it.
As an entrepreneur, I can't easily say no to meetings with clients, even if it is my birthday.  I have that need to check emails.  I will still have that task in my head that needs to get done.  It especially got harder when I became a mom because I'm on all the time.
However, Juni is right.  I have to take a day off.  Heck, I have to take days off.  Hence,
My Self-Improvement Task: Create a perfect day for yourself when the world gives you the excuse to do it — like your birthday and Mother's Day.
This year's Mother's Day, I was given the best excuse to treat myself because the SoMoms were invited to participate in Ayala Malls' Mom's Perfect Day.  We were asked to come with our kids in complementary outfits thus, I needed to go shopping.
Day 1:
I chose to do my pre-perfect day at Trinoma where Painter's Wife and I had Hainanese chicken and Cereal prawns at Wee Nam Kee.  (You cannot shop on an empty stomach!  That being said, you must also make sure you're wearing Spanx!)
Then after 2 hours of chika, we went on attack mode to search for the perfect outfits for ourselves and our kids.  The third floor of Trinoma was all we needed to hop from Mango to Promod to Zara.  Notice the themes in my choices?  I felt uncomfortably tummy-conscious though and I was thinking I had to suck my stomach in the whole time, despite the Spanx already cutting off my circulation.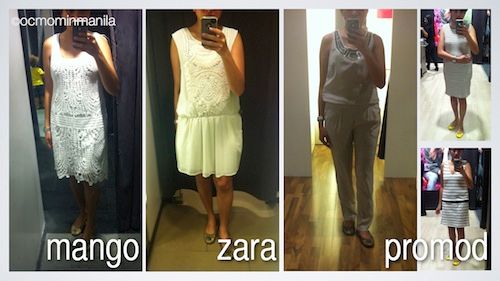 I couldn't make up my mind (even though in hindsight, I should have bought those dresses in Mango and Zara – both e!).  So we were off to Gingersnaps to get clothes for the kids.  Gingersnaps is such a wasteland of cuteness (and age-appropriate chicness too).  I wanted to buy everything for the girls.
After my purchase (see photos below for the final choices), I decided to also get myself Mac make-up to complete the look (see Painter's Wife's post on my loot).
Then it was dinner time so Eliza and I decided to finish off our 7-hour Trinoma day with some pasta and pizza at Italiannis using my discount coupons.  (As you can NOT see, we were too tired to take photos and I had run out of battery from posting on Instagram.)
DAY 2:
Less then 24 hours later, I found myself in another Ayala Mall, Greenbelt 5.  This time I was with MyMommyology.  We started off with lunch at Chateau 1771.  We ordered gambas, beef tenderloin linguine, ravioli with oven-roasted tomatoes and for dessert, coffee pie and a cafe latte (there were three of us ok!).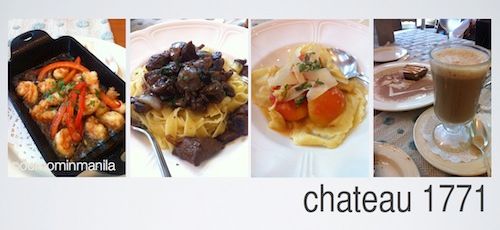 Then we were back at it at Promod, Mango and Zara.  I have become an expert on their stocks (and which ones you can find in each mall)!  Two of the outfits I tried on are in the small pictures in my outfit shots above (they're small because I wasn't wearing Spanx!).  I also went to Banana Republic and Adora.  After an hour, I finally found the perfect outfit(s) back in Promod
Lesson: you have to go back because someone could be trying on the dress that was meant for you when you were there 30 minutes earlier.
Corollary to Lesson Above: Must wash clothes before wearing them.
Mother's Day:
Ayala Malls prepared a really special treat for us and the moms in their malls that day.  Greenbelt 5 had a butterfly garden, free mani-pedis and a Bizu dessert buffet.
The SoMoms went to Gingersnaps as a group and see the kids in their natural habitat (haha).
We felt so special getting treats from Lancome — I want to try the Lancome Absolue, which they said has millions of stem cells to regenenerate your own cells.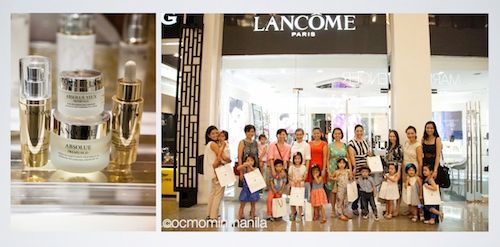 Then we went to Kiehl's where I finally admitted to myself that yes, I need to buy their Powerful Wrinkle Reducing Eye Cream.  It hurts but denial will only make me lose precious time (hahaha).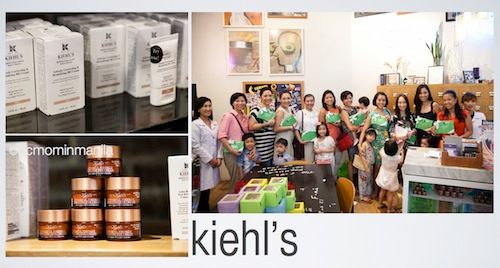 We had so much fun (and I think I gained so much muscle because N didn't want to be put down the whole time … except for picture-taking with her friends).  She looks so prim and proper in this photo.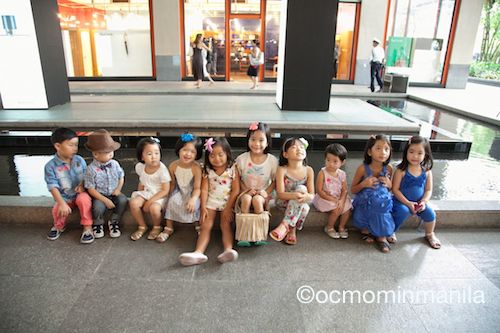 Finally, here are the outfits we chose from Gingersnaps and Promod.  N was very tired at this point that she decided to remove her shoes already (She wasn't using them anyway.  I wish someone carried me too that day).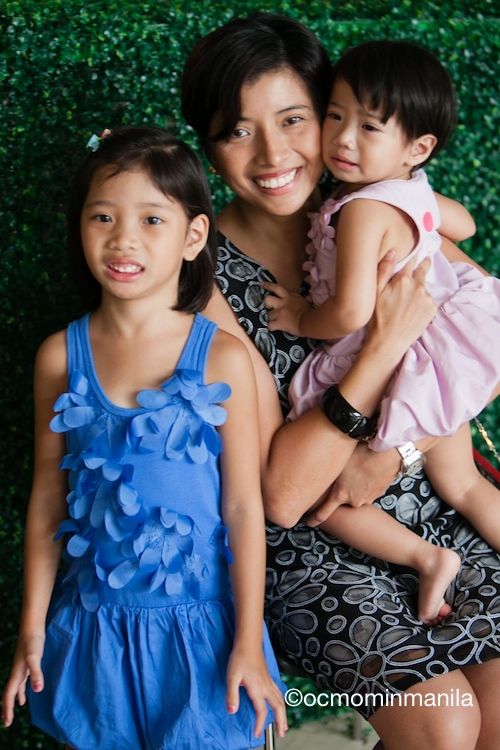 In the end, I ended up with 1 whole and 2 half perfect days for myself.  Thank you Ayala Malls for forcing (forcing!) me to take time off.  Next one will be in January.
©OCMominManila