Ceelin staged a touching surprise tribute to five moms last Saturday.  I wish I was there to see it but it was nice that they captured it on video for everyone else.  (As usual naiyak ako.)
This inspired me for my next self-improvement task:
I will show my mom I appreciate her for everything she's done for me.
And I will start with this blog post.
My mom had seven kids, all within twelve years.  Now that I'm a mom, the thought of more than two stresses me out.  The thing is, I hardly remember any yayas, only those from a few pictures but none I can really recall in my memory.  I remember being with her a lot: shopping, doing the groceries, collecting rent from tenants (haciendera daw! hahaha), going to the palengke (ok so maybe not a haciendera), manning our clothing store in Dau Edsa Central, or just playing with the metal sharpener (the kind that was mounted on the desk) and the dry seal in her office  (which was on the ground floor of our house).  She said I always clutched the back of her skirt wherever we went.  In Kindergarten (Humpty Dumpty SY 79-80), I wouldn't let her out of the room for 1 week (hello, the woman had 6 other kids!).  Obviously, I was attached.
She expertly handled 7 sets of feeding, diaper-changing, potty training stages.  I cannot imagine the planning of activities, crazy summers, teaching handwriting. (Good thing at that time, she didn't have to worry about Filipino!).  Despite her already horrendous schedule, she also managed the family construction business and her own business of being an exporter's subcontractor for children's clothes.  She took care of all of these without missing a beat.  I don't remember any bouncing checks, any calls from the admin office saying I didn't pay the tuition yet, any forgotten lunch baons in my bag.
She was very protective.  I never rode the school bus (maybe because we were a school bus on our own).  I don't remember playing much in the street (because we had a backyard where my dad built a tree house and I had all the play mates I needed, whom she "manufactured").
I remember an incident when I was 12.  It was 8pm and we (Mom, myself, my younger cousin, and the driver) were going home after closing up the store in Dau.  We were in our Hi-Ace on United Street when a car blocked us and 3 men armed with high-powered firearms came down.  I was so petrified, I couldn't even open my window even if the hijacker was pointing his machine gun at me and shouting at me to open the window.  My mom had the presence of mind to throw her bag to the back of the car, talk to the men calmly and give them a bag with some notebooks in it, (as well as a plastic bag with suha, which was our comic relief when we would retell the story). In hindsight, she was fast enough to show she was complying but slow enough to waste their time and make them rush to go away.  The hijackers got our car keys so she made sure we immediately leave the crime scene but lock the car doors.  She flagged a tricycle and put us all in, including our driver, who was very scared.
If there will be a zombie apocalypse, I'd call my mom (and my brother in Vancouver).
I've seen her go through more than five separate car accidents of my siblings, stay for two months in the ICU of Medical City watching over my sister in a coma and take care of her and her disability over two decades.  I've seen her spend all her life savings just to give us what we needed.  I've seen her lose a child, my older sister.
In all these years, I don't remember her being anything but amazing. If I can be there for my children and protect them the way she has done for us, I know I would be amazing too.
Salamat sa pamana, ma.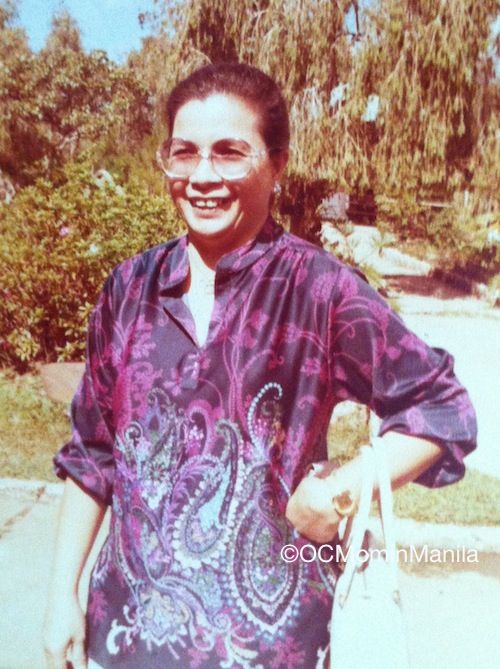 ©OCMominManila