Honestly, I have gotten to a point in my life where I have become immune to mall-wide sales.  I haven't been to those 3-day sales in years.  I have no desire to join the crowds, fight the traffic and dig through mounds of shirts.  I just felt it wasn't worth it …
… until this week when I opened the gates of shopping madness. (cue organ music – tandandandan)
Self-Improvement Task: I will take advantage of mall-wide sales.  I will just plan for them well.
Glorietta is having a Back-to-School Midnight Madness this weekend from May 31 to June 2, 2013.  On Friday and Saturday, the mall will close at 12 midnight!  Ayala Malls asked the SoMoms to experience the sale ourselves through an Amazing Race.
We were given only an hour to shop and within that hour, all my past sale experiences came flooding back (it's like riding a bike).  Here are my Glorietta Midnight Madness tips for those of you who are scared like me:
1.Stake out Glorietta a few days before.  Map out the stores where you want to go and where you're going to have lunch.  Know your size in every store — shoes, tops, bottoms — there is little time to try stuff on during the sale itself!
 2. Choose a good shopping partner — someone whose taste you trust and knows what looks good on you (he/ she will come in handy when you try on outfits), someone who is not whiny, someone who is balanced (she'll tell you if it's not worth it or she'll push you to get it even if beyond budget because it just looks really good to pass up). I was partnered with Jenny of MyMommyology.  We've known each other for 13 years.  I think that's good enough.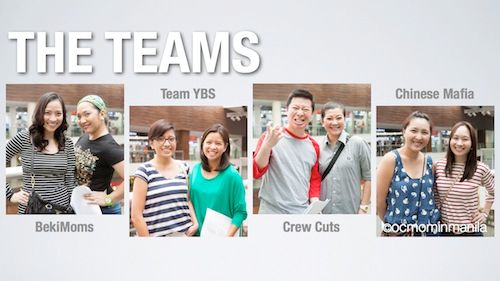 3. Go to Glorietta on Friday, first thing in the morning.  Have breakfast at UCC then be at the doors by 10AM.  Don't forget to wear comfortable shoes (slip-ons or maybe Havaianas) and maybe leggings, a button-down shirt and a tank top inside so it's easy to try on stuff (even outside the dressing room), if necessary.
4. Have a plan in mind.  Make a list of things you need for school (but also things you want for extra-curricular stuff).  Zero in on the sale items in your favorite stores.
We saw nice flats in Janylin for P399 and tops and dresses in Kamiseta that would go on sale.  Kamiseta has great outfits for all the mom activities for school (PTCs, school programs, orientation, etc.). Pink Box will have everything on sale for 10% (black headbands for P40!) and they have cute back-to-school bundles for only P99.
Gingersnaps is a usual favorite in the mall.  Their stuff will go on sale for up to 70%.  Their sister store Just G also had great finds on sale already.
Payless had nice black school shoes and sneaks that went as low as P400.  I also found donya shades for only P349!
Basics for Kids had cute dresses for around P400.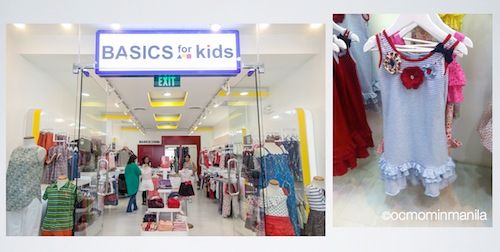 Mayoral, a brand from Spain, was my favorite.  The super nice dresses would be perfect for Christmas plays and culminating activities (#planningwayahead).  Some were on sale at 30% off!  (Mayoral is near Gap.)
5. Be prepared for competition.  Somebody will spot the same thing you're eyeing.  Just be fair.  If he/ she got to it first, then give it to them.  If you were first and they're very jeje and fighting you over it, just let it go.  It's just a pair of shoes and not worth killing someone over.
6. Don't go home empty-handed!  Show something for your efforts.  Buy something for crying out loud.  There are too many good deals to pass up.  (ok, I think this event has unleashed the monster that I tried so hard to lock up.)
7. Find a way to justify everything you bought — hahaha.  In our case, our concept was back-to-extra-curricular.  It was more of the things you needed outside of school needs.  In my case, our school doesn't really require anything to be bought so obviously my finds are wants – hahaha.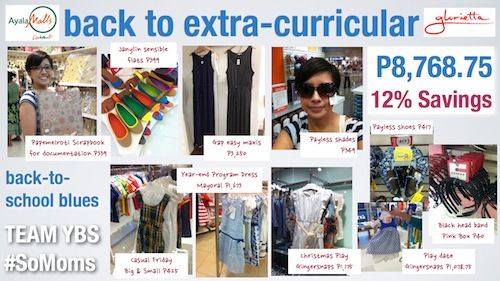 We were able to find so many things in an hour's time for less than P9,000.  Most of these items weren't even on sale yet.  Imagine how much we would find and save on Friday!
8. Schedule a home massage the next day.
We didn't win the amazing race but I had so much fun.  Going to the Midnight Madness is definitely worth it if you plan it out OC-ly.  See you tomorrow and good luck!
♦
Follow Glorietta on:
Facebook: They have an ongoing promo right now where you can win an iPad!
Twitter: @gloriettatweets
Instagram: @iloveglorietta
©OCMominManila