Mess = stress. There's no doubt about it. If you can't stand mess, don't have kids. It is a sure thing with them.
I try not to pass my neurosis onto my kids (try being the operative word). I feel good whenever M's former teachers from Explorations always say M has no issues exploring different textures and art materials. She doesn't get grossed out or refuse to try them out (whew!). That's in school. At home is a different thing.
I have to admit I hardly make them do messy projects. I'd rather they read books, do worksheets, use blocks and do pretend play rather than get messy with paint. However, I know (I know, I know) art is the foundation of creativity. Creating something from nothing, using your imagination, using your bare hands — those are what create connections in the brain, those are the things that make them feel more confident and empowered, those are the foundations of personality and leadership down the road.  So this video actually spoke to me.

This video was the thought-starter for Breeze's #SigeLangOPigilan campaign. I actually felt guilty because I can be the latter (Pigilan Mom), even though I know it's not the progressive thing to do. So yes, it took a commercial detergent brand to make me tap into my soul and realize that I can be a better parent, that the right thing to do is just let them experience, enjoy and learn. It doesn't matter if they get messy as long as they're not in danger.
So with that realization, I broke out the finger paint kept in storage for about a year already (haha) and let N do whatever she wanted with it. I kept my mouth shut, smiled and just took photos. I didn't let her use an apron even (talk about extreme therapy!).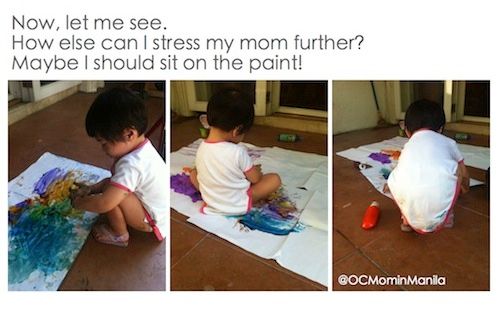 The result: something really amazing from an 18-month old.  I think I've seen similar-looking paintings in MoMA (stage mother alert!).  My Mom has a Pacheco hanging in her living room that looks like this (sorry, Mr. award-winning painter).
In the end, I didn't know where the artwork ended and the onesie began.
Who knew I had it in me? I did realize that I can prioritize when it comes to OC-dom. My new rules: If it will help my kids learn, will not put them in danger and there's a solution for the stress anyway, then just let them go with it. Sige lang.
Sincerely, I want to say thank you to Breeze. It's a commercial detergent brand but its advocacy is in the right place.
♦
Follow Breeze on Facebook and Twitter @BreezePH.
©OCMominManila