We went to Seoul last month (post to follow soon), prior to the whole North Korea situation.  I don't want to make light of the threats but I also feel that Seoul shouldn't be overshadowed by them, so I'll just try to keep things light with this post on M's "winter fashion", as she called it.  I also put together a few tips below on what to put on your girls in 0-8 degree weather.  Here were her key outfits:
Day 1: I remember my dad (btw, happy birthday dad!!) would always tell us to wear a coat whenever we travel.  Here is M all suited up given Lolo's advice: Gingersnaps coat (Size 3!) and shirt inside.  Zara Kids scarf.  Gingersnaps tutu.  Old Navy leggings.  Payless glittery slip-ons.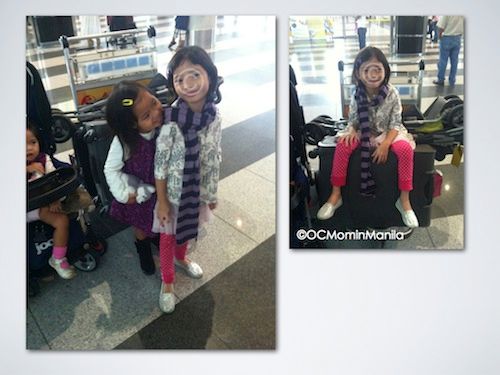 Day 2: It was pretty cold that day, around 2-5 degrees.  Underneath she wore thermals borrowed from Suzi Abrera's girls (Thanks Tita Suzi and Ninong Paolo!).  Hat from Circo.  Zara Kids dress.  Gap fleece vest (part of her Lalaloopsy Halloween costume). Puffy jacket (again from the Abrera girls).   Gap Kids scarf.  Mothercare tights.  SM Kids boots (also part of her Lalaloopsy Halloween costume).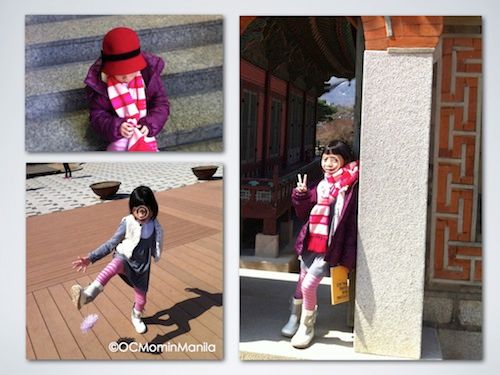 Day 3: (Left photo) Still cold but not as much.  Beanie, sweater and puffy jacket from the Abreras.  Carters dress shirt.  Mothercare tights.  Payless slip-ons.
Day 4: (Right photo) Red hoodie from Zara Kids. Gingersnaps tutu. Mothercare tights.
We traveled during the end of fall (right before the cherry blossoms bloomed, shucks).  Here are my tips for dressing up kids for fall in Seoul (may apply also for similar climates):
Thermals help.  M doesn't like jeans (and honestly, I forgot the Gap jeans I just bought in the wash!!  Sacre bleu!). Good thing Suzi had 3 girls so she lent M thermals.  She wore them underneath her tights and they kept her warm.
Hats and bonnets are more useful than ear muffs.  Ear muffs bother M (and me too!) so get a hat that protects their ears as well.
Gloves!  The fingers are the first to freeze.  That said, bring clothes with pockets.
The puffy jacket helped a lot.  Inside, M had a sweater over a thin dress or shirt so it was easy to just remove if she got hot.
M liked her scarves but they didn't help much.  They were more of a hazard in catching on the wheel of the stroller or escalators so I don't recommend them.  Maybe just for photos in the room.  Hahaha.
Choose good boots, not cheap boots!!  M ran around in her boots and her feet hurt after.  You get what you pay for.
Bring a thick shawl or blanket to act as an additional cover while they're in their stroller and the wind is coming at them.  Our Maclaren's hood was pretty protective though.
For those days when you're traveling in and out of a cold country, make sure the layers are studied so you can pack them on in the cold country and take them off when you get back to hot Manila.  (This way, you don't have to keep changing outfits.)
Bring a big eco bag (like those from beansprout) to store all the shawls, scarves, etc. when you go indoors.
If you have other tips for fall fashion, feel free to feedback (yes had to alliterate some more) in the comments section.  Where are you traveling to this summer?
©OCMominManila