Ever since I became a mom, I have gotten into the habit of asking my mom friends what their kids would like for occasions.  Maybe because I've seen how some gifts can just be completely ignored by kids if they really have no interest in them.  I don't want my gifts to end up like that!!  In my control-the-world mode, I sometimes dream of developing a registry app like Amazon's Wish List just so the world (exagg) can give gifts everyone would really need and want.
When babyGap asked me and a few SoMoms to try their baby registry, I was so excited.  Choosing babyGap items for other people to buy!!  My closet has a lot of Gap staples — jeans, tees, shorts, flats.
But my kids … my kids!!  I have gone overboard in buying them Gap stuff, especially the elder one when she was smaller.  The great thing about Gap is no matter how many times you wash it, it still retains its shape, color and quality.  How do they do that?  So even if it's more expensive than some brands, it lasts longer.  I don't buy a lot of clothes for my 1yo anymore because she still uses her ate's babyGap hand-me-downs which I kept from 5 years ago!
So I happily went around the store with the babyGap specialist helping me with the items I wanted.  We chose some items for our upcoming trip to Seoul — for my 5yo —  because we're not bringing the baby along.  (I will go crazy if we did, I think.)
Then we chose some standards for school — again for the 5yo — because the baby just has too many clothes already from her ate (poor 2nd kids!!).
I super love their photos of kids and babies!  I also love how they merchandise their stores.
Now that M is in her experimental fashion phase, I think the best way to control her (insert evil laughter) is to buy her good pieces so she can't go wrong (ok, ok, that statement is not progressive at all)!
After choosing about 20-30 pieces, you get a package of 20 invites which you can give out to friends to announce your party and the registry.  Plus, you get a free cute diaper bag!  Guests can visit babyGap stores and the registry will be available for them to view there.
So here's a step-by-step info-pictographic I made (naks!) on how to register for babyGap: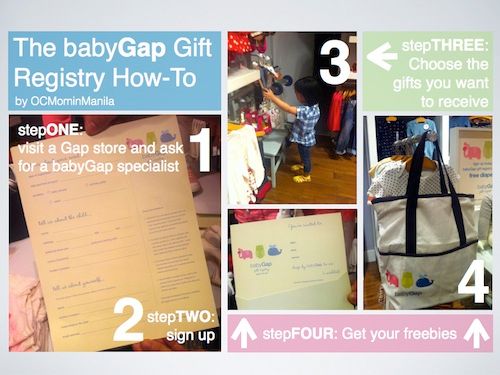 Thank you to our babyGap shop-a-holic Berry Dychiao for being in my photos.
Gap is on sale now so head on to the stores!  BabyGap is available in (and I'm just remembering form the top of my head here …) Robinsons Magnolia (my current favorite), Shangrila, Mega Mall, Glorietta, High Street.  I know Trinoma doesn't have babyGap yet.  I'm not sure about Alabang.  Gap Philippines is also online at Gap.com.ph.
©OCMominManila