I hate filling out raffle stubs.  I do.  It takes a lot of time and I have never won.  (I won a Bingo game once though!)  I remember my mom would fill out the Unimart coupons for us and she would give all of us an equal number of coupons — there are 9 of us in the family (Imagine all those groceries, thus all the coupons!).
A few years back, I had our AA have a stamp made for me.  It was only P20 I think but it was crude, made on the sidewalks of Valero St. and when you stamped it, it was messy and the letters were uneven.  (OC!!!)
While I was decluttering last December, I discovered an unopened National Bookstore package that 101 grams of eye candy bought for me.  It was a Trodat stamp!  Like an old-school printing press, you would lay out the individual letters and stamp them on the stub.  The whole process of putting in the letters with the tweezer is very tedious and very therapeutic – haha.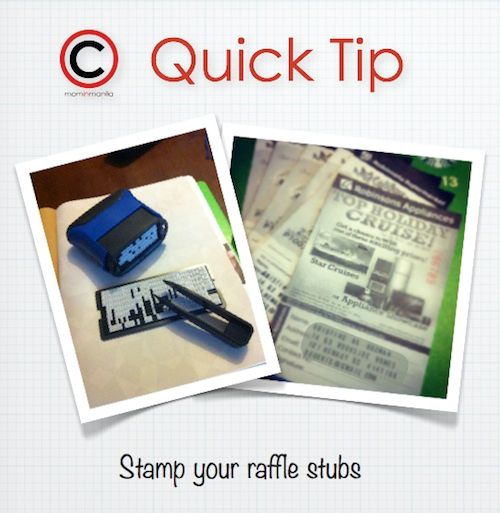 The Trodat stamp has four lines and fits perfectly on the normal raffle stub space.  I didn't bother following the fields anymore.  I just made the information fit.  (Raffle stamps are so inefficient anyway — how can an address fit on that short line??)  If I don't win the raffle because of luck, I can probably win the Neatest Stub award.
Now, what else can I stamp?
♦ Trodat Stamp ♦ Around P900 ♦ National Bookstore ♦
©OCMominManila