I saw Beansprout Bags first in Cafe 1771 in El Pueblo. I thought the designs were really pretty, distinct and innovative. Then sometime last year, I happily got an email from the owners and they sent me a few products to check out.
I love the utility pouches that have very simple but chic designs (see photo on left below). These come in a set of 3. I use the small one for my gadgets (hey, follow the label); the medium one for the kikay stuff in my bag (tissue, wipes, lotion, comb); the big one for documents. I'm toying with the idea of doing away with my bag organizer and just using 3 of the medium pouches to segregate things in my bag. (I hate how a bag organizer can still get messy!).  The utility pouches have other labels which you may check out on their site.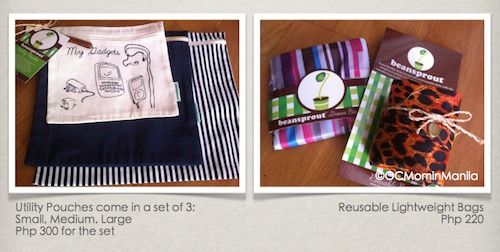 The reusable bags on the right (above) are really nice. The striped one is very lightweight and extremely packable into a small square. The animal print one is made of thicker nylon so it can hold heavier stuff. I always bring these around in my bag too, ever since QC instituted the P2.00 per plastic bag rule.
My favorite from their line is the giant laundry bag (photo on the right below).
It's made of of natural canvas with a really pretty nylon lining. The lining of mine is brown with beige polka dots. It's perfect for hanging in our bathroom. I did suggest to the Beansprout owners that they should make a Santa sack for Christmas! It looks so nice.
These Beansprout bags are very affordable… and that doesn't mean they're cheap-looking. Like I said, the designs are well-thought and if you look closely (see the magnified parts in the photo above), they are very well-made. Stitching is neat. The fact that they think of things like the lining is an indication of good design and quality.  The cord of the laundry bag is thick and of good quality.  So the price is really good!
They also recently launched a personalizing service (see top left photo above) so it's really perfect for gifts.  These are the things you wouldn't mind getting tons and tons of.
♦
Buy Beansprout Bags at Cafe 1771 or online.
Follow them on Facebook: Beansprout Bags ♦ Twitter: @beansprout_ph ♦ Instagram: @beansprout_ph
©OCMominManila