When we bring 5yo M to Active Fun in High Street, we always pass by Mothercare and ELC on the ground floor. ELC stands for Early Learning Centre.  It was brought in by Mothercare from the UK. Their toys are well-thought, well-made and actually affordable. They invited me and my daughter to check out the opening of their second store in Greenbelt 5.
It was actually an event for everyone who visited the store on opening day. I saw fellow bloggers Rone of Mothering Earthlings, Frances of Topaz Mommy and fellow socialite Rissa Mananquil (bwahaha #feeling) who looked amazing even after giving birth recently. They were all with their kids. The host was Jiggles the balloon master and she awed my party-deprived child. My little nerd did so well on the puzzle game.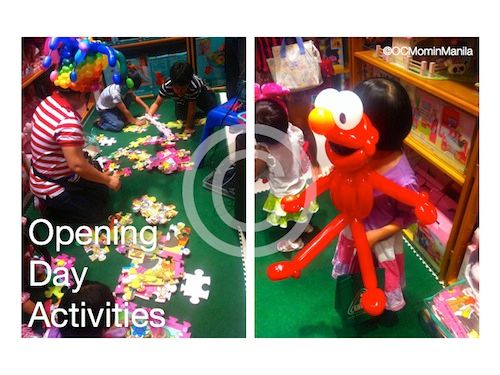 After the games, we went around to go shopping (the objective of the day)!  Here are some of our ELC finds:
1. Rosie: doll house, furniture and accessories.  Rosie is an exclusive ELC character I think.  They had this huge house on display and it was so nice.  I would buy this house over any Barbie toy house any day.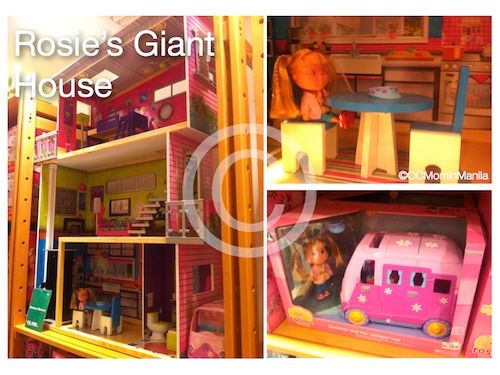 2. Arts and Crafts: Lots of small toys for crafty kids.  Perfect to give kids and tweens for Christmas.
3. Pretend Play.  Who says it needs to be Halloween to wear costumes?  (Well, my daughter actually says that … the little killjoy. I wonder where she got that??)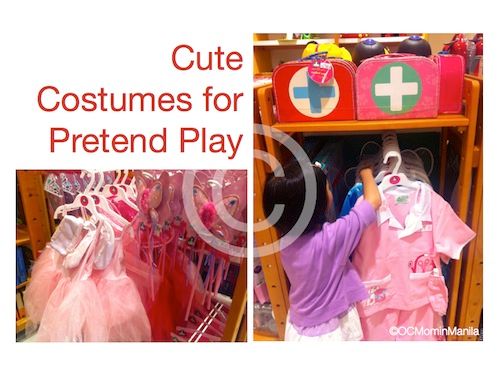 4. Active play toys: scooters, pedal-less bikes and cars great for outdoor fun
5. OC Toys: I loved these!!  Ironing boards, irons, a cleaning caddy with a brush, mop and broom.
6. Rosebud Village: M's favorite is the Rosebud village toys.  I like them too because they're wooden and very well-made.  There's a school, farm, house, hospital and playground.
M already has a wooden doll house but she's been asking for the hospital for Christmas so Santa will probably oblige. I just don't know where we can still put it in our small townhouse.
The thing I really love about ELC is their toys look very nice even if they're not that expensive. These are the toys I will keep around for N to play with and maybe even for when they have little girls of their own.  PLUS, ELC assured me that each product is tested by the ELC UK office or by an independent laboratory. Every product has been tested to ensure that it conforms to and beyond all European and British (BS EN71) standards.  (No lead issues here!)
Santa will be in the ELC branches in Active Fun on High Street and Greenbelt 5 this month.  Follow Mothercare on Facebook for Santa's appearance schedule and ELC updates.
Thank you ELC and Mothercare!
©OCMominManila