Hi, I'm Kris and I'm a Lalaloopsy addict.
(Check out my glowing review of Lalaloopsy toys on Crash Test Mommies)
I have successfully brainwashed my 5yo M into liking them too and agreeing to be a Lalaloopsy for her main Halloween character this year.  (Her other costume was Izzy of Jake and the Neverland Pirates for school.)
We decided on Mittens Fluff 'n Stuff because she has the easiest clothing pieces to put together.  The most difficult part was the hair.  My friend Pat of 101gramsofeyecandy suggested I dye a mop blue (Brilliant! That woman really has innovation on the brain.) but it seemed too heavy for M.  Then, I saw some clips with curling ribbons in an accessory shop and I had a eureka moment (which cost me about 20 hours of my life).
Here's how I made the wig: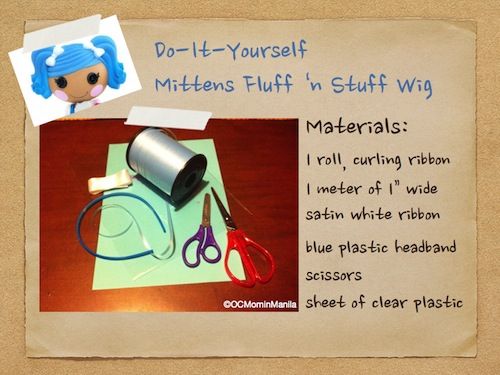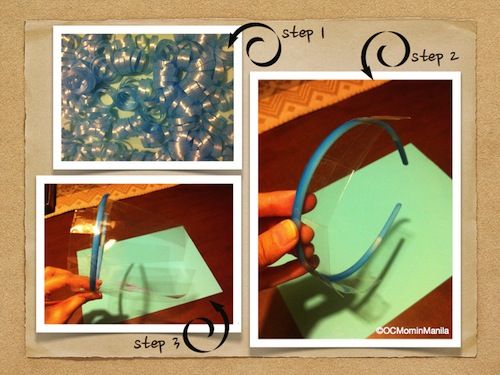 STEP 1: I asked M to cut equal strips of curling ribbon (almost 1 meter long).  Then, I curled each strip by running the scissors along the length of the ribbon several times.  (If you can't imagine how to do this, just go to a National Bookstore wrapping station and watch the girls do it.)
STEP 2: Tape a 1.5″ strip of clear plastic on 1 side of the headband for the bangs.  Make some cuts perpendicular to the headband so the clear plastic will fall along the hairline and not be stiff.
STEP 3: On the main hair side, tape about 6-8″ wide of clear plastic.  Do the same cuts.
STEP 4: On cellophane tape, put about 12-15 curled strips of ribbon side by side.  Leave some tape allowance  on top and sides.  Tape on the clear plastic.
STEP 5: Do the same on the different parts of the plastic and the bangs area.  Fit on your child as you go along so you can place curls where necessary and cover bald spots as you go along.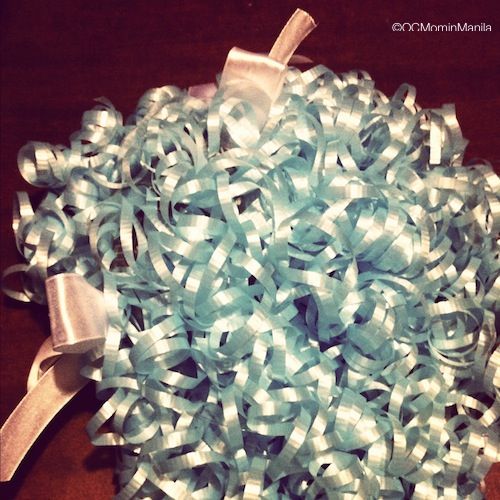 STEP 6: Fit on your child's head. Trim the curls evenly (remember they're curls so don't stretch them when you cut). Attach the 2 white satin ribbons.  Add more curls if necessary.
OK, that was the hard part.  The outfits were fairly easy because I just had to put together clothes she already had.  We just had to borrow a top and buy the fleece vest.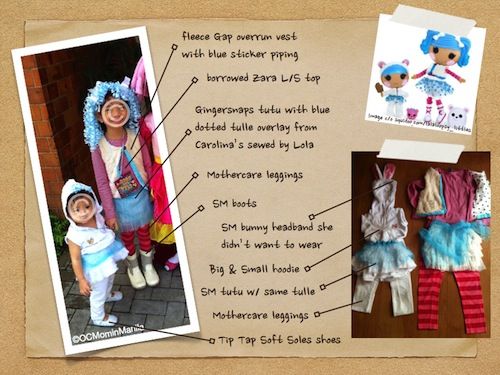 M was really happy with her costume and N really looked like Bundles Snuggle Stuff, except she refused to wear the headband.  The Toys 'r Us sales people were so happy when they visited the Lalaloopsy area.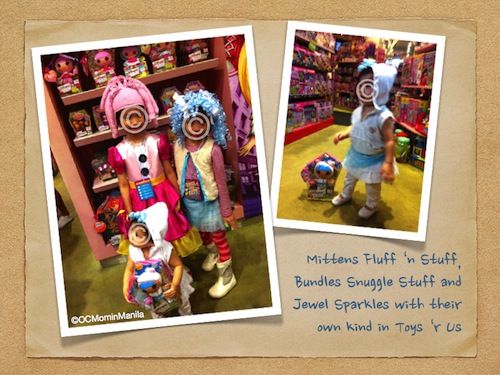 M's cousin came as Jewel Sparkles and had her costume professionally-done by her Ninang who owns Bumblebee.  It was super nice, especially the wig!
All in all, it was tiring (doing it in between putting N to sleep at night!) but it was really fun and fulfilling trying to transform nothing into M's (and my) favorite Lalaloopsy characters.
What did your kids dress up as for Halloween?
©OCMominManila