I don't know why but I really cannot buy ready-to-wear costumes.  I feel that the fun of Halloween and costume parties lie mostly in the innovation and creativity behind your costume.  (It's either that or I'm just too cheap to buy anything that will just be used once or twice.) In the past we've always made M's costumes.  In 2010, it was Woody.  In 2011, it was Rapunzel.
Today, M had her Halloween party at school.  She wanted to go as Izzy of Jake and the Neverland Pirates.  (For those of you who have been living under a rock, that's the Peter Pan spin-off of Disney Junior — Channel 38 on Sky Cable)  We had parts of this costume a couple of months ago because M auditioned for the Talk Like a Pirate of Disney Junior and we wanted to dress for the part.  Of course, when it came to the audition, she got stage fright because of all the strange faces of the production crew.
Anyway… this was a pretty simple costume.  Although we still had to buy the outfit, she can still use the pieces on a daily basis.  Our gauge for it being a successful costume – her classmates easily recognized her.  Haha.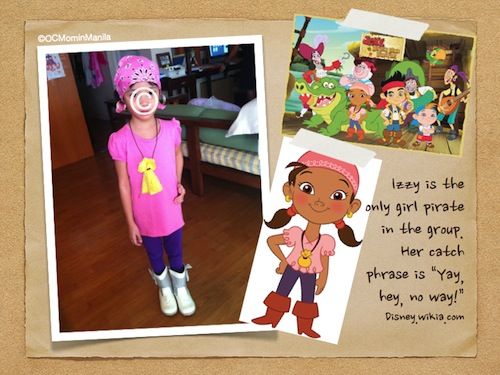 The most complex part of the costume is the pouch where Izzy keeps her pixie dust.  Lola just fashioned this out of some wrapping fabric and a brown cord, both bought from National Bookstore.  Here's my discussion with M on the pouch:
M: My classmates kept asking for pixie dust from me

ME: Did you tell them it's imaginary pixie dust?

M: I just told them it's fake.
M really wanted gold hoop earrings.  I was really concerned because she might get irritated by the fake gold post.  Eli of The Painter's Wife suggested I coat it with clear nail polish (brilliant!) but when we were removing M's earrings, they were too small for my fat fingers that she was getting pinched from my pulling out the clasp.   She didn't want to wear the hoops anymore.  However, I refused to be beaten and because I had already spent for the earrings, I found a way by attaching them to the bandana instead (must give myself a pat on my own aching back).
I spent close to P1,000 for the costume (including the boots) but everything can be re-used. (Yes, yes, justifying.  I could have gone to the toy store and got one for just P300.)
We have another costume for the Rockwell Halloween party on Saturday.  That one is a bit more challenging and much cuter.  I'll post that one next week.
What are your kids' Halloween costumes this year?
Happy Halloween folks!
©OCMominManila