Instead of doing traditional birthday parties for our kids, we prefer to travel.  This year, we went to Boracay for M's birthday and to Cebu for N's birthday.  I am really glad I am still breastfeeding N because it is the best option for traveling infants.  I don't have to bring bottles, sterilizers, etc.  It's also great for the plane to help with N's ear pressure and it's very convenient for feeding right at the beach (no sand in the food!).
In our recent travels, my travel fashion choices have automatically defaulted to my Mommy Matters pieces.  Obviously, from the photos, my favorite is really this Mommy Matters dress which I also wore in the Mommy Matters Real Mom campaign shoot.  I've worn it everywhere!  (Nakakahiya na actually but it's really pretty and comfy!)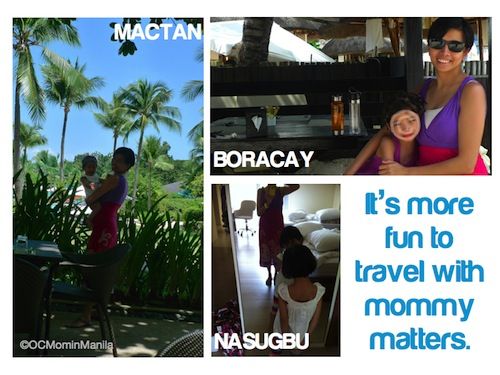 I also like the Mommy Matters bamboo loungewear which is super comfy. It's meant to be a night gown but between you and me, I've worn it for going out a few times and I've gotten away with it (Confident much?).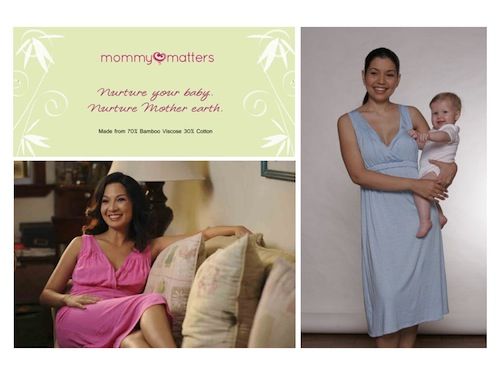 The bamboo line/ eco-friendly collection of Mommy Matters can be found in Medela house, Spoiled! Store and online at Zalora, Indigo Baby, and Shop Mommy Matters.  They also have a bamboo tank nursing top which is nice (also available at Mothering Earthlings).
Are you a breastfeeding traveller too?  Mommy Matters has been generous enough to sponsor a contest for OC Mom in Manila readers.  The prize — a P2,000 GC from Mommy Matters!  Here are the contest mechanics:
1. Follow the Rafflecopter widget mechanics
2. Outside of Rafflecopter, please do the ff:
2.1 Upload your #RealMom statement using the Real Mom app.  Additionally, you will get a P100 voucher when you share your #RealMom statement! (You must have a #Real Mom statement to win.  This won't be part of Rafflecopter so we will check manually.)
2.2 Share this contest on your Facebook wall and tag OC Mom in Manila and Mommy Matters.  Here's a sample status update: "Join the Mommy Matters contest on OC Mom in Manila and get a chance to win a P2,000 gift certificate.  Find out more here."
3. Contest runs from September 18 to October 1 12:00 Noon. Winner will be announced on October 5 (so we have time to sort out entries).
Good luck!
©OCMominManila
P.S. If you see me on the beach in my Mommy Matters dress again, don't judge me for wearing it over and over!  I just really love it.