Because my name is OCMominManila, everyone expects everything about me to be perfect. (I guess that's the peril of giving yourself such a name.)  Now that my face has suddenly been exposed in the digital world because of the Mommy Matters #Real Mom campaign, I'm worried that my neighbor will start snapping photos of my garage with a used walis tingting left leaning on the wall (gasp!) or the village guard will take a video of my rained-on dusty car (the scandal!) and judge me (that's my lesson learned from the airport scandal last week — feeling public figure ako e no!!).
Like I said in my first few posts, I do consider myself OC a lot of times but I'm not all-encompassing OC (there's the disclaimer).  However, this blog isn't just about me.  Every mom has some OC streak in her (hence my dream of an OC Anonymous treatment center one day).  So here, I have attempted to list down (in my oh-so-unscientific way) the different ways a mom can be OC.
TYPE 1: THE OC ORGANIZER
She has a place for everything and everything in its place.
She hangs out in Howard's Storage; likes Muji for the translucent containers (but if she's lucky, she finds them in Saizen for 1/4 the price), alphabetizes books, CDs and refrigerator contents.  She loves National Bookstore's office supplies section and probably organized her own wedding and kids' birthday parties (using stuff she bought from National Bookstore or Divi).  Online, she's subscribed to Martha Stewart's email tips and sends family members iCal invites, even for date night.
OC Organizers organized clockwise: Martha Stewart, the ultimate OC Organizer.  101Gramsofeyecandy's binder where she files all her daughters' reply slips!  Sleek diaper bag from ManilaBabyShop which is always out of stock.  Organizer apps for moms from AppSafari.  Customized shoe closet of The Diplomatic Wife (customized according to her shoe measurements!).  Battery container of Darth Vader.
TYPE 2: AESTHETIC OC
She is also an organizer but the difference is, she likes things organized so they look not just neat but also pretty. She doesn't just label things, she decorates the labels.  She dresses simply but chooses the items well, using them with the right accessories.  She matches her kids' clothes and keeps her girl's (if she has a girl) hair neat with ribbons from Celestina.  She loves Elfa storage solutions and collects Pottery Barn catalogues.  She loves Pinterest and whoever invented it and she uses them as pegs for her small decor projects in the home.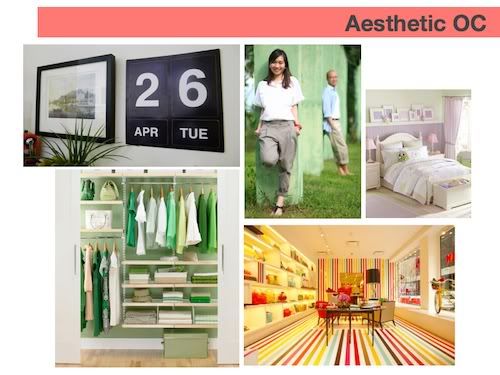 Aesthetic OC Pinned clockwise: Perpetual wall calendar of 101gramsofeyecandy.  Tin Dychiao or Manila Fashion Observer who is forever neat-looking and fashionable (with her similarly fashion OC husband Harvey in the back).  Pretty purple Pottery Barn girls room, something Two Tots can actually replicate.  Kate Spade shop as blogged about by my friend Of Dots 'N Things where her posts are all about being aesthetically OC.  A dream Elfa storage unit (unrealistic though because really, any cabinet with 20 items in it would easily look neat! … Bitter!).
TYPE 3: PARANOID NERD OC
Also called The Worst Case Scenario OC.  She will think 2 steps ahead of the result of her actions now.  She watches the donation basket passed around in church like a hawk to see which parts are untouched and that's where she holds it.  She thinks the internet was made for her because she can research everything.  However, she doesn't believe the first thing she reads.  She has to info overload and cross-check various resources.  With this, she doesn't automatically believe advertising claims.
Info on the Paranoid Nerd OC Clockwise: Does not have filtered water delivered at home because of the BPA found in polycarbonate gallons of water.  Drinks and bathes in Aquasana filtered water to avoid chemical-absorption into her babies' bodies.  Loves WebMD for symptom research and can actually do DDX House-style.   Does not subscribe to everything that is labeled "Antibacterial" because most of them contain Triclosan.  Washes hands several times a day surgeon-style.
Obviously, I am the third type, with a smattering of the Organizer OC.  If you know my daughter whose hair is the messiest in her class, then obviously, I'm not the Aesthetic OC
 I'm sure there are other types but these are the general ones I thought of.
So there.  That's my OC disclaimer.  I'm not perfect.  Well, nobody is!  Haha.  What about you, what kind of OC mom are you?  Answer the poll on the sidebar and let's tally!
©OCMominManila