Yesterday, Mommy Matters did a digital launch of their #RealMom campaign featuring my mom-blogger breastfeeding friends, their kids and me and my baby.  I hardly put photos of myself or my family on this blog because I am embarrassed to show my face and I don't want to expose my kids.  However, when Janice of Mommy Matters, who has been my friend for years, approached me to do this project, it seemed really fun and interesting so I agreed.
The shoot was relaxed and casual with everyone involved being a mom (including the photographer and makeup artist).  Janice asked us to do serious model looks as alternative shots but I suspect my face came out angry (I can never do a fierce look for the camera).  Thankfully, she chose this shot.  (Actually, this is what I'm saying behind that smile: "Eli, help me, Basti is pulling down my skirt.)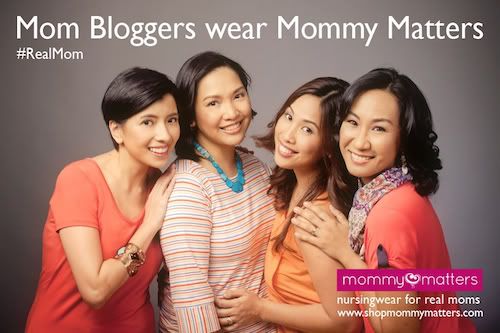 Unlike other shoots, this one probably had a different level of complexity for the production team because of the toddlers running around.  Sjofn, the daughter of Paola (owner of Mommy Treats) was the most rambunctious of the bunch.  However, she would actually sit still and do poses with Vito (Dainty Mom Martine's son).  Painter's Wife Eli's son Basti, who is normally serious, was all excited and actually gave us several smiles.
And of course, my baby Nala, who was 5 months at the time, was at performance level, smiling at the right moments and not crying at all (stage mother moment!).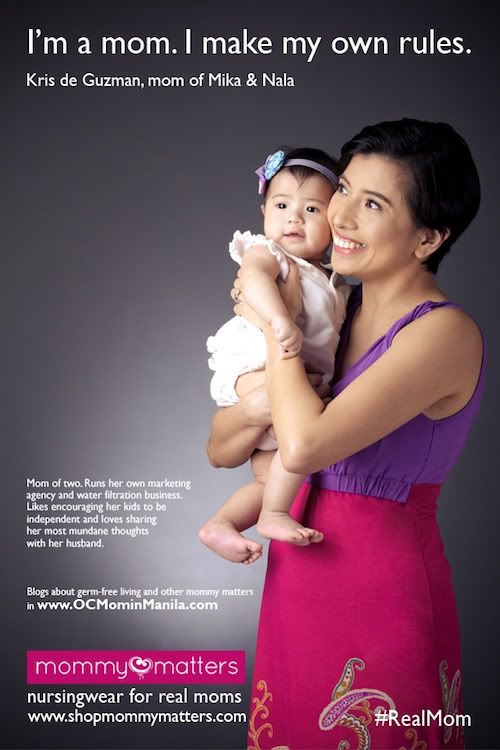 Because we are all real moms, Janice and Candice asked us to share our own real stories for the campaign  and this is what they put on our individual shots.  (If you want the scoop, one of my #RealMom statements was "Please don't kiss my kids unless they want you to.  There really is no reason for you to do so.")
Check out the individual REAL MOM statements of Eli, Paola and Martine and share your own on the Mommy Matters Facebook page or on Twitter, using the hashtag #RealMom.  You can also visit ShopMommyMatters for more info.
©OCMominManila