A few weeks ago, we were invited by Michelle of MyMomFriday to Kidzville Podium for a play date with our kids.  I went with my daughter M and we met the other mom bloggers with their kids — Eli of Painterswife, Rone of MotheringEarthlings, Martine of DaintyMom and Jackie of GoJackieGo.
The kids started out in the active gym but after a few minutes, everyone decided to go to the kids' pretend village.  I had been to this place before but I never went inside.  This time, when I did, I realized just how cute this kids' village was!  M was instantly in love.  I loved the fact that everything was well-thought and well-made.  The construction was good and the toys, decor and costumes didn't seem typically cheap and scary (as other mall-based play places did).
While the kids were inside, Rone, Michelle and I got foot spas.  The Club Princess area was right by the door so we moms could actually stand guard and make sure our kids would not slip out of the exit without us noticing.  We also had the village in front of us and we could partially see (or hear) what was going on inside.  The only thing I didn't like in the foot spa were those giant furry pillows which made me feel stuffy (and well, I wanted to make sure they were freshly-washed).  Other than that, I loved my pedicure!
[NOTE: My photos below have quotes from M when she was looking at the photos and remembering our fun afternoon.]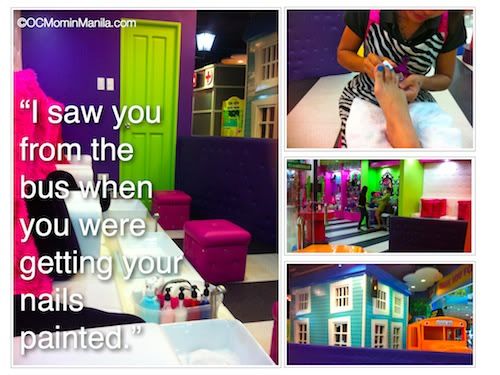 As we were having our foot spas, I noticed the jingle playing over and over.  It was originally composed and it actually described what you could find in Kidzville (and after a while, I had LSS).
First, there was an Emergency Room/ Clinic where there were babies, doctors' lab coats and other medical instruments.
There was a real Volkswagen (which had a really noisy horn).  I think Jojo is the brother of the owner.
There was this really cool phone booth (very Dr. Who) which had Superman costumes inside so small Clark Kents could change into superheroes.  Even the wall panel changed from Clark Kent to Superman.  Across it was Tyler's Builders where giant building blocks could be built into forts.  The boys really made a mess in there and my daughter was getting very worried about it.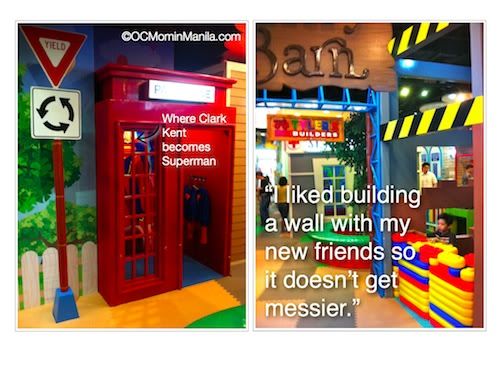 Down the pretend street was the Fire Station with a real Fireman's pole (although they couldn't slide down for safety reasons I guess).  There were also cute firemen costumes inside.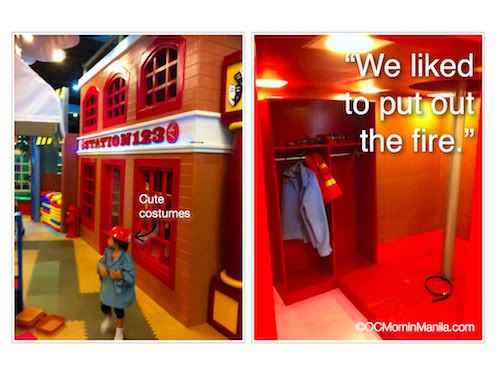 Across the fire station was a barn with really cute farm animals, including a hen that had eggs which you could gather.
The last two places below are my daughter's favorites.  There was a grocery store which was the messiest of all because all the small grocery items were scattered everywhere.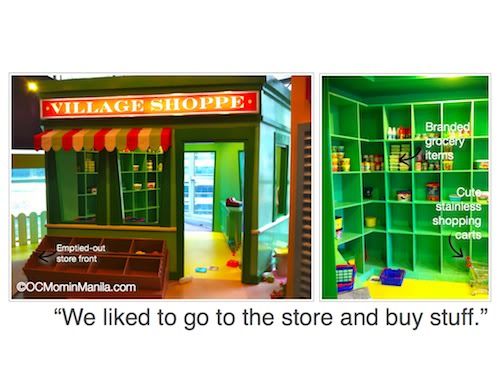 Beside that was the cute cafe.  Of course, true to form, my daughter wanted to pack away and help the staff with the mess.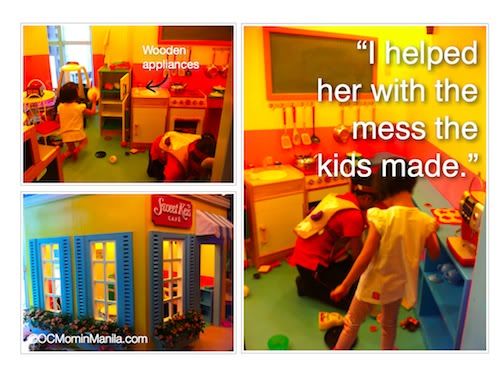 Even with all the fun, I had to ask how the owner made sure the place was clean.  She said they disinfect everything everyday.  Once a week, they have a general cleaning where they use power hoses to hose and soap mats, balls, etc.  She admits that she herself is OC too.
Overall, it was a great afternoon for M and me (and my happy feet).  She played for almost 3 hours.  She also said she wants to have her birthday party here (because we can't go to Hong Kong as originally planned because of the bad people).  It's a great party venue because there's an area at the back for guests to eat.  I'm not a fan of birthday parties but I think this is a great venue because kids can really have fun.
Thank you to Michelle and Kidzville Podium for a great afternoon!
Kidzville Play and Party Center
4/F The Podium Mall, Mandaluyong
Tel. no. (02) 632-7784 Mobile no. 0917-844-5439
©OCMominManila
[DISCLOSURE: Kidzville Podium gave me a free foot spa, 3 hours of play time for my daughter and snacks for the both of us.  In exchange, we had lots of fun and I happily wrote about our experience.]