Sheryl Laudico has been my friend and intermittent client for the last 7 years.  Last year, she became a new mom again after several years and left corporate to become a work-at-home mom.  And like a lot of us moms, she went through the usual paranoia of making sure her new baby was safe.
It's so funny because as my doctor described me, I'm an ultra OC and exaggeratedly paranoid mom.  My germophobia was driving my OB, Pedia, husband and yaya crazy!  And SIDS was my other issue! For the first 3.75 months of Victoria, I would not sleep at all at night and she would just be on my chest the whole time.
Sheryl was so scared to give Victoria to the yaya and she only started doing so after 2 months (I also did the same thing with my first baby.  And now, most of the day, I still take care of the baby.)  This helped because the Yaya would be able to get the baby from Sheryl so she can sleep for 3 hours.
Longer than this would worry me as the Yaya might drop her, fall asleep or whatever weird thing can happen.  Then I finally let Victoria sleep in her little bed since my back was really suffering as well as my productivity during the day.  But then another worry struck me, what if in the middle of the night she suddenly feels too cold or too hot?!  I used to take her temp every hour!  What if she suddenly rolls over while asleep or gets out of her little bed?!  Hay, this haunted me for days.
So she did some research and discovered the Snuza.   The Snuza is a baby movement monitor, which you clip onto the baby's diaper.  It can detect the baby's slightest movement while asleep and alerts you if the movement stops.  Visually, it shows you the movement through blinking green lights and if the movement stops, the light turns red and an alarm is sounded.  I've heard about some under-mattress monitors that also detect baby movement but a friend of mine said it would freak them out as it would alarm so loudly at night even if the baby was still breathing.  (See the Snuza's comparison to under-mattress monitors here.)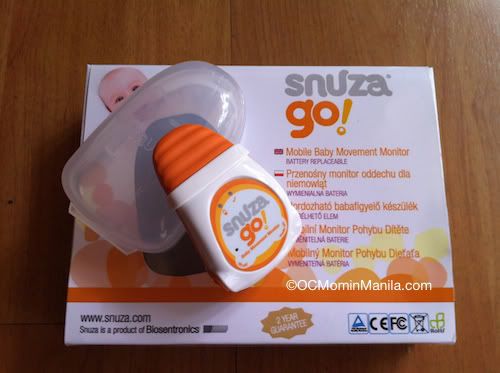 I've had some paranoid moments myself where I would check if the baby was breathing beside me (during the time we were co-sleeping) by feeling the rise and fall of her chest.  Or I remember one time when I even put some tissue in front of her mouth and nose to see if the tissue would move with her breath as I could not see the slight movements of her body in the dark.  Now, that the baby sleeps in the crib, I go into the nursery regularly to check on her.
Because of these paranoid things we do as moms, I think the Snuza will give a lot of moms (like us) peace of mind that our babies are safe.  Says Sheryl,
The peace of mind that Snuza has brought me is incredible.  I can actually sleep for every 2 hours that she sleeps!  That's why I got so excited with the product and decided to bring it in.
Sheryl is now the exclusive distributor of Snuza in the Philippines.  Snuza comes in 2 versions: the Snuza Go and the Snuza Halo.  The only difference is the Halo has a vibrating stimulus that can help rouse baby or initiate movement again if it doesn't detect movement.  Snuza will be available in Mothercare High Street this month.  In the meantime, you may contact Sheryl at +63.917.556.0612 or on Facebook.
This week, I will post mechanics to a new blog contest where new moms can win a brand new Snuza Go!  Check on the blog regularly to see how you can join.
©OCMominManila