I'm fortunate to have so many generous business owner friends who have given me such nice stuff with the new baby.  One of them is Jen Tan of Next9Baby who gave me a pack of cloth diapers.
When I gave birth 4 years ago, the only cloth diapers available were the cloth diapers with velcro.  I hardly used those because it was very messy.  We still had to do major clean-ups after pees and poos.  Then I found out from Jen that the cloth diapers now have waterproof lining! (I guess I totally missed the baby innovation boom after I gave birth to my first).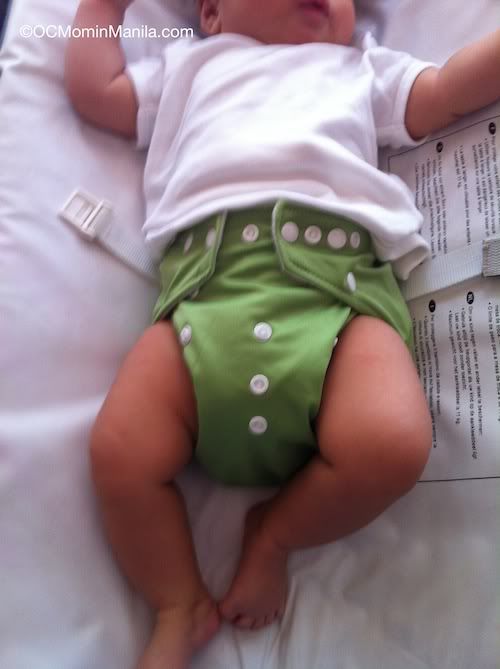 What I like about the Next9 Cloth Diapers:
Quality-wise, they're very nice.  Workmanship is very pulido.  Material quality is excellent outside and inside.
I like the button details which allow you to adjust the diaper (However, my big baby doesn't need the height adjustment anymore at 3 months!
Pee absorbency is very good.  Poo, I don't know yet (and I'll let you know why later)
Washable, of course so it's economical and eco-friendly.
I have to confess though that I'm still a half and half user for now — half cloth and half disposable.  I'm still in this phase where I have to throw away the diaper with the poop.  My baby only does about 1 bowel movement a day now, most often in the morning (based on tracking data from the past month — the tracking deserves another post).  So at night up to the time she poops in the morning, I use disposable diapers.  Then after that, I put on the cloth diapers the rest of the day.
Environmentally though, I know I have to go cloth diaper very soon, if not now.  Did you know that it probably takes 250 years for a cloth diaper to biodegrade?  And that trash in landfills contribute to air pollution as well as ground water pollution – so all these actually goes back to us.  I will slowly start increasing my use of cloth diapers and target to use cloth diapers by the time the baby is 6-9 months.  Let's see