I work from the house more than half of the week. I prefer to situate myself on our dining room table which is more spacious than my husband's former office (slash – junk room).  You can check out 101gramsofeyecandy's feature on my work area a few months ago as part of her "Where Do You Blog" series.  My favorite part of that work area is the antique bookcase we bought in Tiendesitas to match another one we got from my husband's lola's home in Lipa, which now holds our dishes.
In this antique bookcase, I keep all the home office supplies, bills waiting to be paid and filed, notebooks, electronics and our Mac stuff, and a few marketing books and some of my files.  It's also a place to store away some work when we clear the table for meals.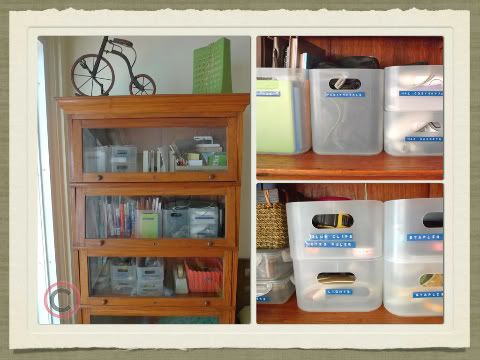 With a ton of small stuff and a big cabinet, you're bound to end up with mess.  I also hate it when the helper packs away some of my things in the wrong places.  So, to keep organized, I bought a few frosted containers from Muji and labeled then with old-school Dymo tape (both solutions suggested by 101gramsofeyecandy again).
I'm still trying to find a way to make it look neater.  But just like everything in the land of OC, it's a work in progress.
©OCMominManila