My husband and I are celebrating our 6th anniversary in a few weeks and that also means we've lived in our townhouse for 6 years.  It doesn't feel like 6 years but it's definitely showing on some of our furniture (along with the breaking down of the plumbing and some appliances).  Our dining chairs are definitely showing wear and (literally) tear.  All of them have rips (small and big) on the seats already, especially M's seat (with the booster) which gets badly beaten because of frequent cleaning of stains from eating, despite the Scotchgard.
In the last few months, I've been looking for a good slip cover-maker and upholsterer.  I called a family supplier as well as someone who had an ad on Red Hot Chili Paper, and both flaked on me.  They both said they'd come at certain days and times and they never arrived (which is really very frustrating!! Don't you hate it when they do that?).  And then I asked Dainty Mom if she had any referrals and she gladly referred Mang Narcing, her mom's upholsterer.
Mang Narcing is very professional.  He got my details.  He gave me a date and time for when he would come for an ocular.  When he and his wife did the ocular, he brought swatches and he had suggestions. He gave a quote and estimated date of accomplishment instantly.  (It was supplier love at first ocular.)
However, the paranoid freak that I am still didn't know him from Adam so when he said he wanted to take the chairs with him already, I had to decline.  I didn't even want to give him the downpayment yet.  What I did was make our trusty messenger bring 1 chair to him along with the downpayment and take discreet photos of him and his place of business on Esteban Abada.  I also made him sign a contract.  (I should have been a lawyer!)
A week later, 2 days before the agreed deadline, Mang Narcing calls our house to inform me he will arrive the next day at 10AM (He actually called!!).  Surprisingly, he arrives before 10AM with his wife and a helper and finishes upholstery on all our 4 chairs, puts slip covers on all + our dining bench; brings the re-upholstered cushioned mat we have from Thailand; brings 2 cushion covers for the baby's pack and play; and 4 cylindrical cushion covers for our day bed (Yes, I made him do all those things).  The workmanship was very pulido (polished) and the fabric choices were good.  The price was very reasonable to me given the labor and miscellaneous costs (like transpo and communication).  The re-upholstery and slip cover for each dining chair, including the fabric, cost P800.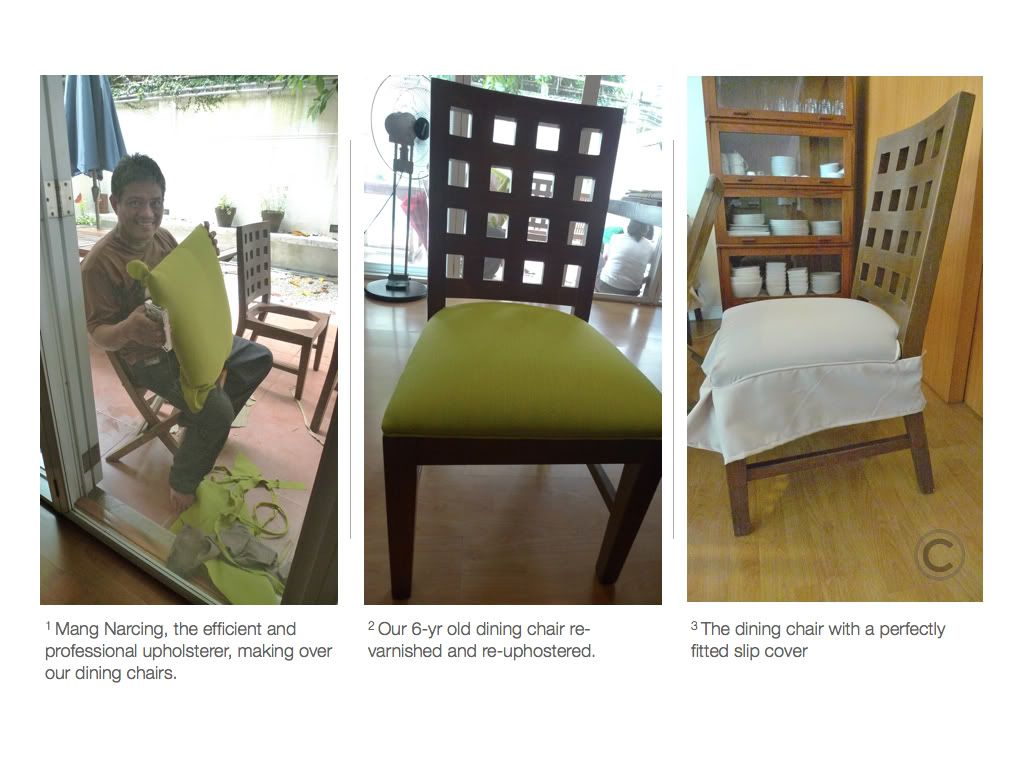 So, even if I want to be selfish and keep him to myself as a valuable resource, I am recommending Mang Narcing's professional talents to all of you who need re-upholstery and slip covers and curtains and what have you.  He is the man!  You may contact him: Narcing Hebres +63.2.4360077 (EDIT AS OF June 2015: Mang Narcing cannot be contacted anymore, I'm sorry.  Last communication from his daughter is he had a heart attack.)
©OCMominManila