I'm back and I'm still pregnant at 39 weeks.  Nesting kicked in pretty late for me this time as I had a lot of last minute to-dos for my businesses and for M.  Nevertheless, as nesting goes, it was still a major frenzy and I'm thankful we haven't given birth yet.
1st on the nesting agenda: M's new room.
From birth, M slept in an adjoining nursery to our room.  We hardly co-slept because we wanted to teach her independence from the start.  With the baby coming, we decided to move M to the extra separate room in our house which was being used as a temporary office of my husband as well as our home bodega, with junk accumulated over the last 6 years.  (Yes, I may be O.C. but like Monica Geller, I have my own junk closet – except mine is a room.  Don't be disappointed in me!  I have an explanation for this in the future, promise!)
It was a stressful project which we kept putting off until it was crystal clear in our heads … until Preggy Week 35 when we started to panic and we decided we just had to get down and do it.  So here are a few steps we took to changing our Junk Room into M's new room (a room that we realized was actually bigger and had more storage space than our own room!):
Step 1:
I have revealed my deepest, darkest secret — our Junk Room!! This was step 1: Choosing the room, making the measurements so we see what fits and deciding what to do with it (aside from getting rid of the junk).  Initially, my husband made drawings over the existing photos so we could imagine the possibilities.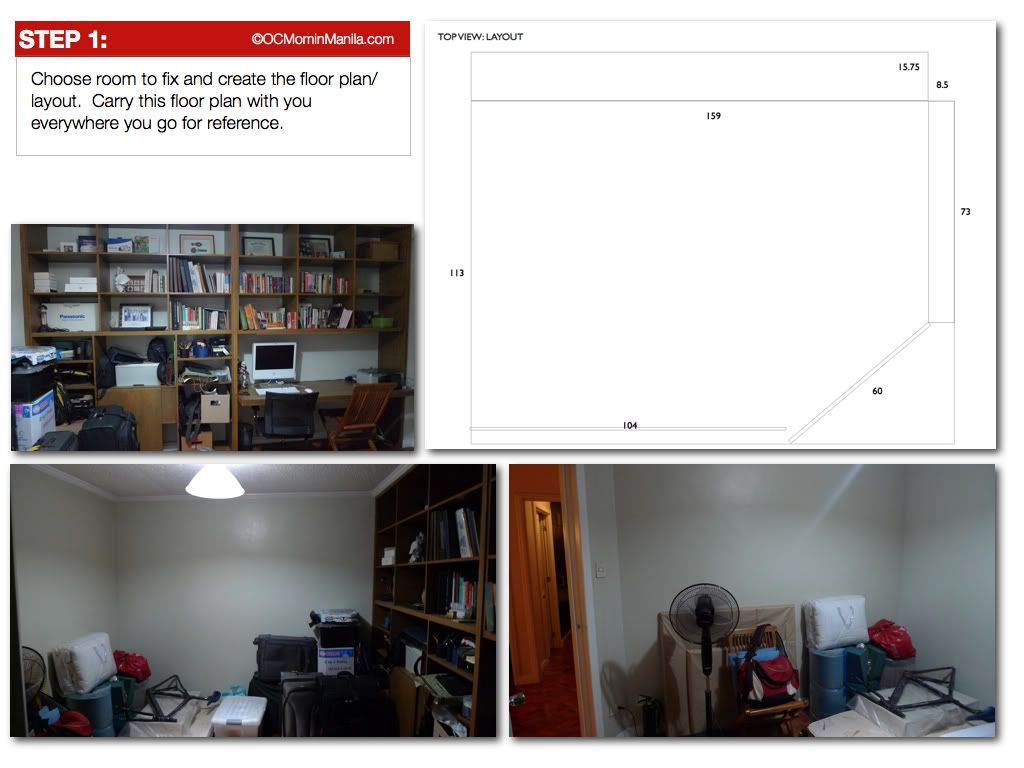 Step 2:
We had to involve M in the whole process.  She had to be excited about the move so we would surf the net for room pegs and ideas.  After seeing a princess carriage bed in one of my accidental searches though, it got stuck in her head that she would have a giant princess carriage in her new room.  Our Jedi mind tricks succeeded and we got her to agree to certain things we liked instead.  The result of this collaboration and internet searching with her was a mood or peg board of what the room would look like. (Photos in the mood board from Etsy, Ikea and Pottery Barn)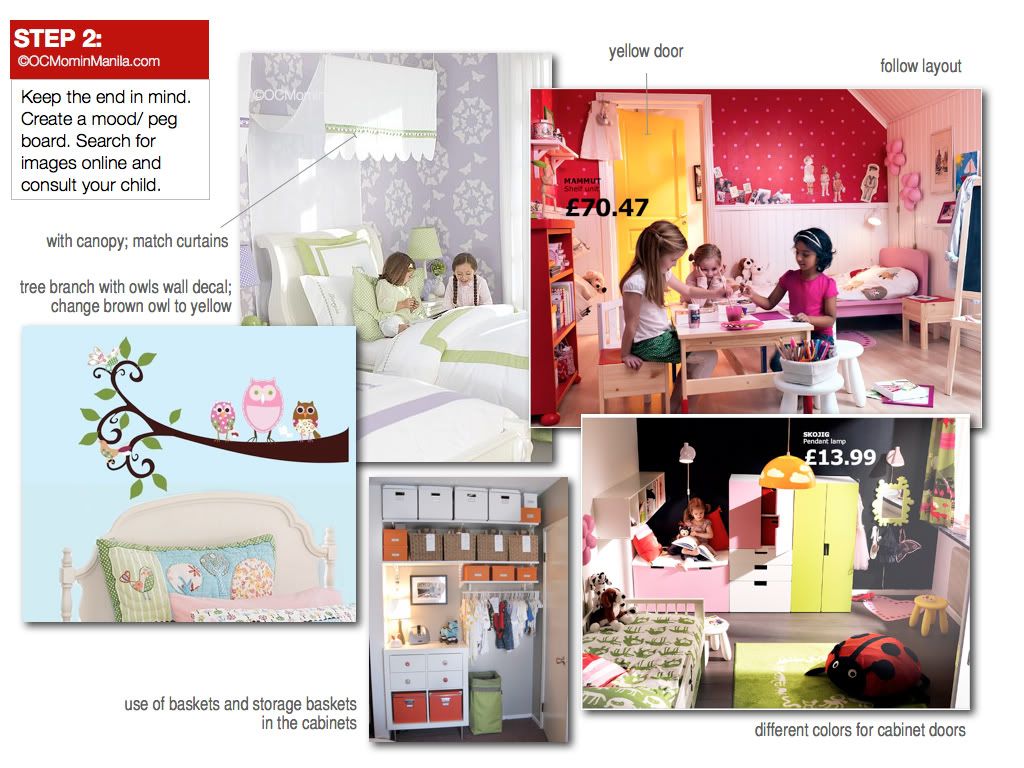 Step 3:
The most major overhaul in the room was the desk where my husband used to work.  We decided to keep the shelves around it and convert the desk into a cabinet.  From the mood board, we decided on plain cabinet doors and use baskets to organize the items around it.  For this, I had to list down all the measurements, which i also kept in my bag so I would refer to them when I would see something I liked while shopping.
Step 4:
Paolo Abrera of Green Living TV, referred a good carpenter to us.  Paolo also gave good tips on reusing wood and using low VOC paint and we hardly smelled any paint even right after the surfaces were painted.  My husband, the instant contractor, did a planning day with the carpenter first to list down all the materials necessary.  M insisted on her door being yellow and she even wanted to paint it herself.
Step 5:
After all the woodwork, painting, junking and installing a new energy-saving airconditioner, we did a final clean up of the room as well all the items that would go into the room.  We re-used a lot of storage baskets but bought a few new ones as well.  M was very happy to help move in and organize her new cabinets, as well as mess them up in the process of moving in.
Finally, we had a liveable room (we never thought it was possible from the before photos) and M moved in without any hitches whatsoever.  We still need to put a nice wall decal by the bed, get a canopy and matching curtains and tidy up here and there but it's 90% done and we're proud of our little contractor-less project.
Here's a photo of M's final room with some of the things we used for storage and accessories: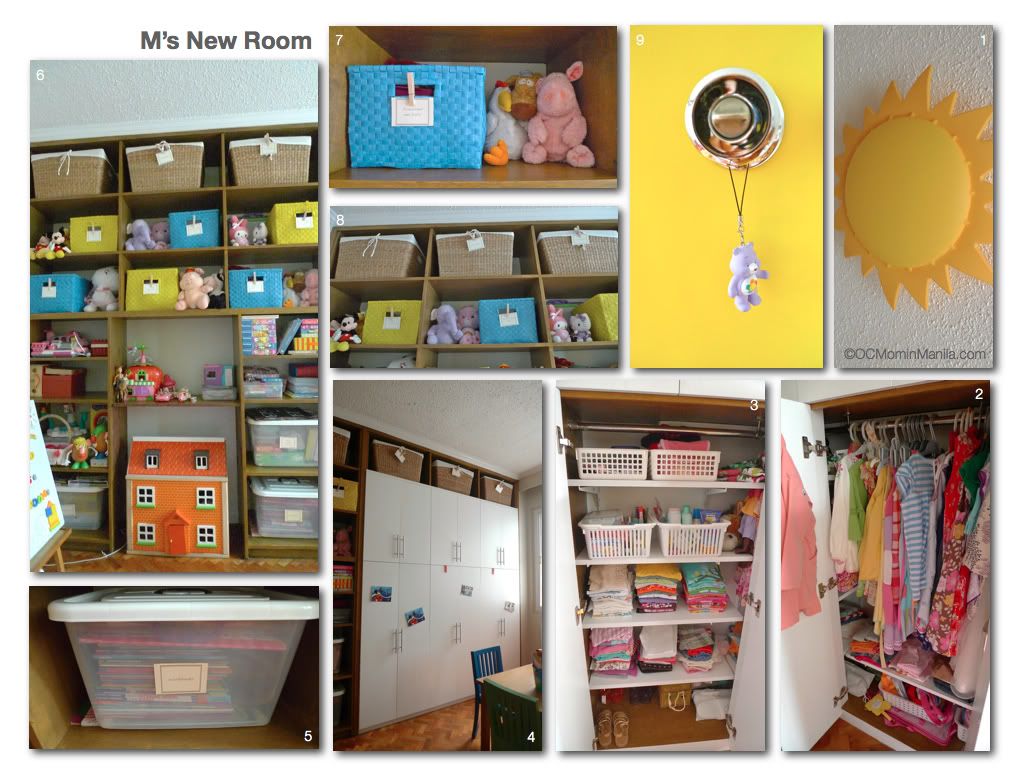 1: Ikea Sun Light Cover bought from Ikea store on Kamias
2: M's closet for dresses (Must get matching hangers)
3: M's closet for other clothes, accessories and personal care items. Baskets from Saizen – P85 each.
4: Colored chairs and table from Two Tots.  Cabinet doors to cover closet space (formerly desk for iMac)
5: Plastic boxes for workbooks, art supplies, etc. labeled accordingly.
6: M's accumulated toys over the years.  Those most played with near the bottom, where she can reach them.
7: Plastic colored woven baskets from Two Tots smooshed with stuffed toys (these are my favorite of the bunch – the Sandra Boynton farm animals)
8: Woven baskets lined with cloth from Greenhills and Tiendesitas.  All labels inspired by The Diplomatic Wife.  Wooden pegs given by 101 Grams of Eye Candy as part of the decor during my baby shower.
9: Care Bear phone charm which M hanged on her door.
Feel free to share your own nursery or kids' room projects with me and I'll feature it!
©OCMominManila