The first time I visited Virlanie, I was filled with so much emotion — of sadness for these beautiful kids.  Some were infants, abused and abandoned during a time when they needed to feel the most love and security, by the ones who meant the world to them — their parents … their moms.  I felt some form of despair knowing that the kids endured so much trauma at a young age.
The second time I went was for an event organized by Johnson's Baby and it was then that my despair turned to bright hope for these kids.
In the event, Johnson's Baby invited several experts and moms to share their experiences and learnings with the caregivers in Virlanie.  From pediatrician Dra. Theresa Hilario-Jimenez, we learned that sensorial stimulation, using all the 5 senses, to engage with your child, significantly improves their emotional, physical and intellectual development.
Some SoMoms also shared their experiences.  Jen Tan of Next9 showed how baby-wearing keeps you at eye level with your baby, stimulating the sense of touch.  Tin Dychiao read to the kids, stimulating their sense of hearing.  Mish taught yoga while Conci showed dance moves, both stimulating sight, hearing, touch with the kids.  Of course, lunch stimulated their senses of taste and smell.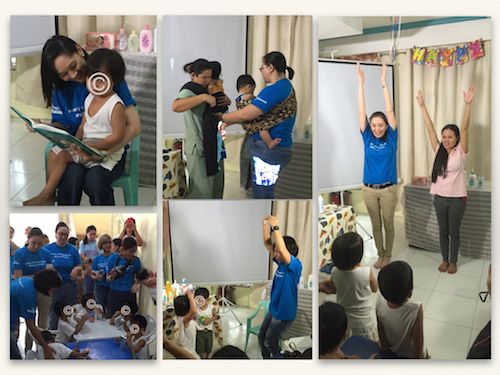 The midwives showed new techniques and learnings in giving the kids baths.  Through a partnership of expertise and shared learning between Johnson & Johnson and the caregivers, they are able to understand how kids of different ages require different care.  The most interesting stage for me was for infants.  The swaddle bathing technique showed by the midwives was very interesting and I wish I knew about it when the kids were babies.  Swaddle bathing helps ease the baby into the sensation of the water.  Babies also have no control over their arms and legs so when they flail about, they think it is something external and it scares them.  Swaddle bathing prevents this from happening.
The midwives showed us the bathing techniques as well for toddlers and small kids.  There is so much more that goes into proper bathing and it's really important for moms to understand this.
Although the Virlanie caregivers said they learned a lot from the sessions, especially Dr. Hilario  and the midwives, I feel the whole day was really about us learning from the caregivers and that was where my bubble of hope surfaced for these beautiful children.  I realized:
That the caregivers have become the moms of these children
That they give so much love to these kids, kids who are not even biologically theirs
That their nurturing love, care and touch shine through these kids because you do see joy in the kids eyes, despite their history
That the kids have a better life now and in the future because of them
That their care means so much … so much more than we could possibly imagine.
Watch this short video on Virlanie and its caregivers.  They are just amazing and inspiring.  They truly make this a brighter and better world for kids.
https://www.facebook.com/JohnsonsBabyPhilippines/videos/948373515229464/
And if you are thinking of a charity for this Christmas or to regularly give to then I recommend this one.  And I thank the Johnson's Baby team and Johnson and Johnson as a company for having so much heart in creating activities like these for us moms and organizations like Virlanie.
©OCMominManila